Egyptian police fired tear gas early Wednesday on thousands of protesters in Cairo, as three people died during unprecedented nationwide rallies seeking to end President Hosni Mubarak's 30-year rule.
The "day of anger" on Tuesday was inspired by Tunisia's uprising which rang the death knell for veteran strongman Zine El Abidine Ben Ali this month, forcing him to flee the country after 23 years in power.
In Egypt two demonstrators, Ahmed Soliman Gaber and Mustafa Ragab, died in the port city of Suez in clashes between police and demonstrators, medical officials told AFP.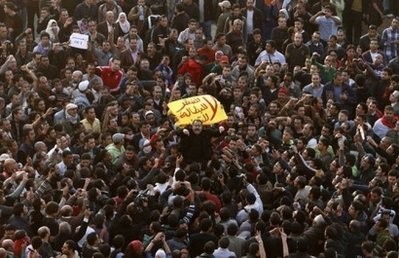 Egyptian demonstrators protest in central Cairo. Egyptian police fired tear gas early Wednesday on thousands of protesters in Cairo, as three people died during unprecedented nationwide rallies seeking to end President Hosni Mubarak's 30-year rule
Policeman Ahmed Aziz died from his wounds in Cairo, where thousands gathered in central Tahrir Square, home to several government buildings, a security official said. No details were provided on the circumstances of the deaths.
In several cities, including Cairo and Suez, police fired tear gas at protesters, who responded by throwing rocks.
"Mubarak get lost," "Bread, liberty, dignity," and "We will follow Tunisia," the demonstrators chanted.
The protests were considered the largest and most significant since riots over bread subsidies shook the Arab world's most populous nation in 1977.
Despite some 20,000 to 30,000 police being deployed in central Cairo, thousands of demonstrators marched to Tahrir Square, where they chanted in unison: "The people want the ouster of the regime."
They also tore down posters of Mubarak.
In a nearby road leading to parliament, police sprayed water cannons as protesters threw stones. Some managed to commandeer a riot police truck and drive it for a few metres (yards).
Police moved into Tahrir Square shortly before 1:00 am (2300 GMT) Wednesday firing tear gas canisters at protesters, who then scattered to nearby streets. Official estimates put the crowd at around 10,000.
The protest, called by the pro-democracy youth group the April 6 Movement, coincided with a national holiday to mark Police Day.
US Secretary of State Hillary Clinton urged all sides to "exercise restraint" and said Washington believes the Egyptian government is stable.
A statement released by the Egyptian interior ministry said security forces had decided to allow demonstrators "to voice their demands and exercise their freedom of expression," with a commitment to "securing and not confronting these gathering".
The ministry said a number of protesters, "particularly a large number of those affiliated with the Muslim Brotherhood... began to riot, damage public public property and throw stones at police forces."
Among the protesters' demands are the departure of the interior minister whose security forces have been accused of heavy-handedness, an end to a decades-old state of emergency, and a rise in minimum wages.
"We have a corrupt regime that wants to continue with oppression forever," said one of the protesters in Cairo, lawyer Ibrahim Mohammed, 21.
Protests also broke out in the Mediterranean city of Alexandria, the Nile Delta cities of Mansura and Tanta, and in the southern cities of Aswan and Assiut, witnesses said.
At least 20,000 demonstrated in Alexandria, Egypt's second city. Thousands gathered in Mansura, waving Egyptian flags and demanding more rights for Egyptians.
In the port city of Ismailiya, over 1,000 people chanted anti-government slogans and warned other Arab leaders they would meet the same fate as Tunisia's Ben Ali.
The protests have been inspired by the month-long street riots in Tunisia that prompted former leader Ben Ali to take refuge in Saudi Arabia earlier this month.
Tunisian grievances have been echoed throughout the Arab world, whose mainly autocratic leaders have been unnerved by the turn of events.
Egyptian authorities have rejected any possibility that they might face a similar scenario but, in a sign of anxiety, they have moved to reassure the public that subsidies on basic commodities will remain in place.
Around 40 percent of Egypt's population of 80 million live on as little as two dollars per day and many people rely on subsidised goods.