MUMBAI, Nov 29, 2008 (AFP) - Police declared an end to the hostage crisis in Mumbai after commandos Saturday killed the last three gunmen involved in the devastating Islamist militant assault on India's financial capital.
"All (combat) operations are over. All the terrorists have been killed," Mumbai police commissioner Hassan Gafoor said, shortly after dawn broke on the third day of the siege.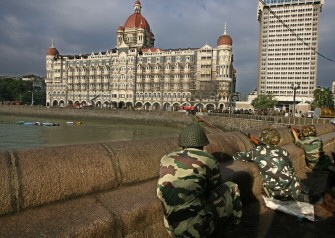 Indian army personnel take position during a military operation at the Taj Mahal hotel in Mumbai on Nov. 29 (Photo: AFP)
The end came with a flurry of explosions and heavy gunfire as commandos launched a final offensive against the three militants holed up in Mumbai's Taj Mahal Hotel.
"We said there were three terrorists... and we have got three bodies," J.K. Dutt, head of India's National Security Guard, told reporters.
"We are now going through each and every room to make sure it is safe," he said, appealing to any guests still hiding in the hotel to make themselves known.
"They must open their curtains so that our security forces can see inside," he said.
After the announcement that combat operations were over, several explosions were heard from inside the hotel.
Dutt had said his men would be carrying out controlled detonations in their floor-to-floor sweep of the historic seafront building.
Prominent industrialist Ratan Tata, chairman of the Tata Group, which owns the Taj hotel chain, visited the hotel complex to review the damage done by three nights of attacks that saw a series of fires.