Australia on Wednesday charged three more men with planning a suicide attack on a Sydney army base and said it may outlaw Somalia's Al-Qaeda-inspired Shebab insurgents linked to the alleged plot.
A total of four men have now been charged with preparing to storm the sprawling Holsworthy barracks with automatic weapons, in what police said would have been the country's worst ever extremist assault.
"We expect a fifth man who was already in custody on other matters will appear in court later today and be charged with the same offence," a police spokeswoman told AFP.
A senior police officer said the alleged attack, foiled by dawn raids involving hundreds of police across Melbourne on Tuesday, may have been in the final stages.
"It was probably getting to the point where it would have happened within weeks," New South Wales police's counter-terrorism chief Peter Dein told public broadcaster ABC.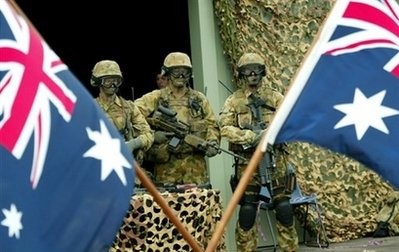 File photo shows Australian SAS commandos at the Holsworthy army base near Sydney
Nayef El Sayed, 25, the first man charged, made a defiant court appearance on Tuesday when he remained seated throughout, saying he wouldn't stand "for any man except God," according to his lawyer.
The four arrested on Tuesday -- El Sayed, Saney Edow Aweys, Wissam Mahmoud Fattal and Yacqub Khayre -- are Australian men of Somali or Lebanese descent. Police said they had sought a "fatwa," or religious backing, for their attack.
Khayre is also accused of travelling to Somalia to train and fight with the Al-Qaeda-inspired Shebab, which is battling pro-government forces and controls large parts of the anarchic African country.
Prosecutors revealed details of the alleged plot, including text messages and CCTV footage of Fattal allegedly casing the Holsworthy base on March 28.
"I strolled around ... it is easy to enter," Fattal reportedly texted later.
Prime Minister Kevin Rudd said Australia was considering listing Shebab as a terrorist organisation but delayed acting for fear of compromising the police operation, which has been running since January.
"This has been the subject of some internal deliberation within the government... for a period of time," Rudd told ABC radio.
Australia, which has about 1,550 troops in Afghanistan and was also involved in Iraq, has never been hit by Islamic extremists on its own soil, although four people died in bombings in Sydney and Melbourne in 1978 and 1986.
It has also lost lives in attacks abroad, including 92 on Indonesia's resort island of Bali in 2002 and 2005 and three in last month's Jakarta hotel blasts.
Last week Islamic convert Shane Kent admitted plotting to kill thousands of people in an attack on a major sports event in Melbourne.
Eight members of Kent's extremist cell have already been jailed over plans to bomb the 2005 Australian Football League Grand Final in Australia's biggest anti-terrorism trial.
However lawyer Remy Ven de Wiel, defending ringleader Abdul Nacer Benbrika, had argued the self-styled sheikh "couldn't organise a booze-up in a brewery."
The Holsworthy base, on Sydney's western outskirts, is home to thousands of troops including an anti-extremism unit.