YALA, Thailand, Feb 11, 2011 (AFP) - Three people, including a teacher, were shot dead and their bodies burned by suspected militants in Thailand's restive Muslim-majority far south, police said Friday.
The victims, including two women, were ambushed on Thursday evening on their way home from a cremation ceremony in Pattani, one of three provinces near the Malaysian border that have been under emergency rule since 2005.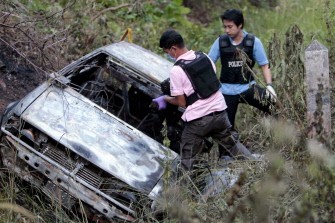 AFP - This photo taken on February 10, 2011 shows Thai policemen removing the charred body of a victim of an ambush in which three people were shot dead by suspected militants in Pattani.
Boontien Buphawas, a 43-year-old teacher at a government-run school, was the 139th education worker killed in the seven-year-old conflict.
In neighbouring Yala province, a 32-year-old Muslim security volunteer was killed in a drive-by shooting on Thursday night, while in Narathiwat province two militants died in a gun battle with security officials Friday, police said.
Shadowy Islamic insurgents have waged a violent campaign in Thailand's southernmost region bordering Malaysia since early 2004, leaving more than 4,400 people dead, including both Muslims and Buddhists.
Violence appears to have intensified recently: a bomb attack in Yala province killed nine villagers last month and an unusually bold attack by militants a week earlier on a military base left at least four soldiers dead.