The crew of the International Space Station will try to fix a faulty toilet on Wednesday, but its one American astronaut and two Russian cosmonauts will not have to evacuate the outpost if the repair fails, NASA said Tuesday.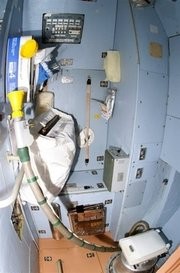 Toilet inside the Zvezda service module is seen in this undated NASA photo. (AFP)
The US space shuttle Discovery arrived at the ISS on Monday with a replacement pump for the Russian-built commode, which began to malfunction last week, forcing the station's three crew members to rig up a bypass for liquid waste.
"At this point in time, even in the worst-case scenario we don't believe that the ISS would be forced into a de-crewing situation for this," ISS deputy program manager Kirk Shireman told reporters at NASA's Johnson Space Center in Houston.
The ISS can use the shuttle's toilet while it is moored at the station until June 11, while special bags to collect urine are also available, he said.
Disposing solid waste has not been a problem, he added.
"It's unfortunate we're talking about toilets, but that really is the life, the future of human exploration in space," Shireman said.
"Things like this will continue to happen in the future. We'll try to minimize them of course, but it's part of having humans exist outside the surface of the Earth," he said.
"I don't take it as a really bad thing. It's something that perhaps everyday people can relate to."
Annette Hasbrook, the lead ISS flight director, said the repair should be done Wednesday by "around lunchtime."