TOKYO, March 15, 2011 (AFP) - Jittery Tokyo residents on Tuesday filled outbound trains and rushed to shops to stock up on food, water, face masks and emergency supplies amid fears that radiation was headed their way.
Many were glued to their television sets to follow non-stop coverage of a worsening nuclear emergency at a quake-hit plant just 250 kilometres (155 miles) to the northeast, which has seen four explosions and a fire.
The capital's government said in the morning that higher-than-usual radiation had been detected in Tokyo, but not at levels harmful to human health, and in the afternoon said the radiation had fallen back.
But many in Tokyo were not reassured, and at main southern train station of Shinagawa a tense crowd of people, many clutching their children and large suitcases, waited to head south out of the megacity.
Survival kits sold out at department stores while long queues snaked out of supermarkets amid a bout of panic buying, as many Tokyo residents readied for the possibility of having to stay indoors for long periods.
"I am stocking up on drinks, rice, snacks and meat," said 34-year-old housewife Mariko Kawase. "I am watching the news very closely.
"I am shopping now because we may not be able to go out due to the radiation coming from the nuclear plant," she said as she filled her basket at a supermarket, where shelves were bare except for bread and cup noodles.
Tokyo, together with neighbouring Yokohama and other densely populated areas, forms a vast urban sprawl of about 30 million people -- but in the downtown Ginza area, the streets were far quieter than usual.
A tense hush and gloom has fallen over the city -- and the nation -- since the massive quake and tsunami disaster on Friday wiped out long stretches of the Pacific coastline, killing at least 10,000 people.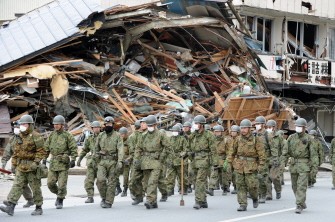 Japanese Self-Defense Force soldiers walk past destroyed buildings in the city of Ofunato, Iwate prefecture on March 15, 2011. AFP
The tremor strongly shook Tokyo and uncomfortably reminded people of "The Big One", a massive quake that, geologists warn, will one day strike the city itself.
In Tokyo's city centre, a few casual shoppers and taxis idled near subway stations where large outdoor TV screens showed news updates and weather forecasts showing which way the shifting winds were blowing.
Tokyo officials said they had detected 0.809 micro-sievert in the morning and 0.075 four hours later -- compared with a normal radiation level of around 0.035. A chest X-ray typically involves a dose of 20 micro-sieverts.
"It is returning closer to the normal level. But we need to keep a close watch on it," health and welfare official Keiichi Nakaya told AFP.
For people here, the fear of inbound radiation compounded the deep sadness felt for the countless victims of Japan's worst ever quake disaster.
"Japan has experienced nuclear bombings, so we are sensitive to radiation," said beauty salon owner Kumiko Yoshida, 54, referring to the 1945 atomic bombings of Hiroshima and Nagasaki.
"I'm very worried about where Japan is headed now. Food must have been contaminated with radiation," Yoshida said.
"Tears come to my eyes when I think of how the victims of the earthquake are feeling. I just want to do all I can to help them."