The combined death toll from Tropical

Storm

Nock-ten and Typhoon Muifa in the Philippines has risen to 70, with threats of yet another

storm

in the rain-battered country, the government said Tuesday.
The toll, previously at 54, rose as two children were reported killed by a landslide at a quarry on the central island of Bohol on Sunday and another 14 victims were logged from Nock-ten, which hit last month.
A total of 178 passengers and crew were rescued from a listing ship off the central port of Iloilo on Sunday, the National Disaster Risk Reduction and Management Council said.
Muifa, named after a Chinese flower, stayed offshore on the Philippine Sea east of the main island of Luzon, but caused heavy rains and rough coastal waters. On Thursday it tipped over a boat on Manila Bay, causing two fishpond workers on board to drown.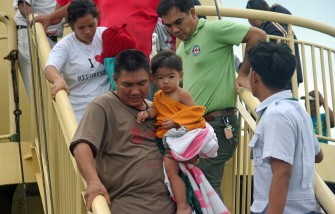 A man carries a child rescued from the 2,400-tonne MV Trans Asia Malaysia, a passenger and cargo ship, that was hit by strong waves causing it to lean over and sink at the coast of Ajuy, in Iloilo, the central Philippines on July 31, 2011.
Nock-ten, which struck Luzon a few days earlier, left 66 people dead and 17 others missing, according to the council's updated toll.
Most Manila schools declared a holiday Tuesday as another weather disturbance loomed over Luzon's west coast with the potential to develop into a storm, prompting the state weather service to forecast heavy rain and possible flooding.
An average of 20 storms and typhoons, many of them deadly, hit the Philippines annually. Nock-ten, named after a Laotian bird, was the 10th this year, and Muifa the 11th