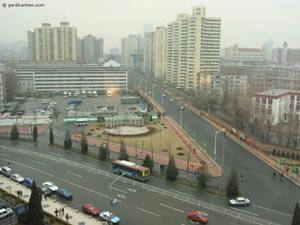 Beijing, China
China's economy, the world's fourth-largest, is likely to grow 10.5 percent this year and slow only marginally next year, state media said Wednesday, citing the main government think tank.

The expected growth in the Chinese economy, up from 10.2 percent recorded last year, is underpinned by strong growth in exports, the Chinese Academy of Social Sciences said according to the Xinhua News Agency.
"Oversupply in some industries has forced producers to seek bigger overseas market shares," Xinhua said, citing the think tank.
It suggested that China further reform its foreign exchange rate system and overhaul its tax rebate system to check the growth of it exports.
The 10.5 percent forecast, identical to a forecast for 2006 growth announced last month by the central bank's research arm, far outstrips an eight-percent target made public by the government early this year.
The think tank said in a report that the growth rate would slow to 10.1 percent in 2007, which was still, however, likely to give the country the title of the world's fastest growing major economy.
China's economy grew 11.3 percent year-on-year in the second quarter of the year and 10.9 percent for the first six months, spurring the government to step up cooling efforts with measures such as interest rate hikes.
Source: AFP