Iran on Saturday put on trial around 100 people, including top reformists and aides of opposition leaders, on charges of rioting after the disputed re-election in June of Mahmoud Ahmadinejad as president.
The trial in a revolutionary court comes as Ahmadinejad, due to be sworn in on August 5 for a new four-year term, sought to ease political tensions by denying a rift with all-powerful supreme leader Ayatollah Ali Khamenei.
The Fars news agency said around 100 people went on trial in Tehran for their alleged role in anti-Ahmadinejad riots after he was declared winner of the June 12 vote.
Iranian media said the accused are charged with having "participated in riots, acting against national security, disturbing public order, vandalising public and government property and having ties with counter-revolutionary groups."
Among those in the dock were Mohsen Aminzadeh and Mohsen Safai-Farahani, deputy ministers under the government of ex-president Mohammad Khatami, and Mohsen Mirdamadi, current head of the Islamic Iran Participation Front.
Also on trial were prominent reformists Behzad Nabavi of the Islamic Republic Mujahedeen Organisation, Mohammad Atrianfar of the Executives of Construction, and Mohammad Ali Abtahi, from the Assembly of Combatant Clerics.
All strongly supported opposition leaders Mir Hossein Mousavi and Mehdi Karroubi, who have refused to acknowledge Ahmadinejad's victory and demanded a rerun of the June poll.
The post-election violence, mainly in Tehran, left around 30 people dead and hundreds wounded, Iranian officials said.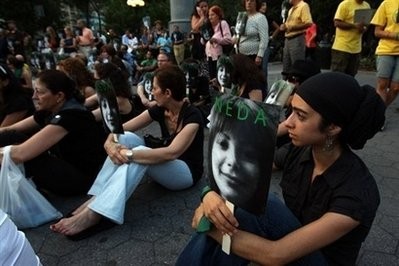 Demonstrators gather in New York City July 30 to mark the 40th day since the death of Neda Agha Soltan, a young woman killed during post-election protests in Tehran.
The official IRNA news agency quoted prosecutors as saying the defendants include people whose photographs were taken while "committing the crimes."
"Some of their accomplices are on the run but they will be surely identified by our dear people and handed over to the law," it said.
After the election -- which opposition leaders say was rigged -- up to 2,000 protesters, political activists, reformists and journalists were arrested as hundreds of thousands of people rallied to challenge the results.
Most detainees have been released but around 250 remain behind bars and their continued imprisonment has become a rallying cry for the anti-Ahmadinejad movement.
The Islamic republic is mired in the worst political crisis in its 30-year existence as the opposition led by former prime minister Mousavi refuses to acknowledge Ahmadinejad's victory.
Thousands of protesters clashed on Thursday with police at a cemetery and in central Tehran as they marked the 40th day since the June 20 death of Neda Agha-Soltan, a young woman whose killing during a protest has come to symbolise the anti-Ahmadinejad movement.
Iran has accused foreign governments of complicity in crimes and killings during the post-election unrest, and on Friday a fresh anti-West salvo was fired by Foreign Minister Manouchehr Mottaki.
"Western and European countries, with their overt and covert capabilities, interfered in Iran's election... the worst among them being Britain," he was quoted as saying by the state broadcaster's website.
"The countries who interfered through their television networks by telling how to instigate riots, build explosives and other tension creating activities are accomplices in all the committed crimes, murders and are held responsible."
The crisis has further deepened after a series of controversial decisions by Ahmadinejad weakened his standing among his own hardline supporters.
Hardliners lashed out at Ahmadinejad after he appointed a controversial aide as his first deputy and was then tardy in firing him despite an order from Khamenei to do so.
The delay in sacking Esfandiar Rahim Mashaie, an outspoken politician who last year enraged hardliners by saying Iran was a friend of Israeli people, has angered the conservative wing of the regime who warned him to obey Khamenei.
The hardline camp was further irked when Ahmadinejad sacked intelligence minister Ghoman Hossein Mohseni Ejeie following a reported "quarrel" over Rahim Mashaie's appointment.
Ahmadinejad, in an attempt to regain their support, denied on Friday there was any rift between him and Khamenei and compared his relationship with the supreme leader to "father and son."