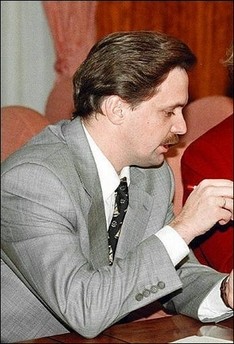 The deputy head of the Russian Central Bank, Andrei Kozlov, pictured in 1998. (AFP Photo)
The deputy chief of Russia's central bank, whose duties included cracking down on financial institutions suspected of money laundering, has died after being shot outside a Moscow sports facility in what officials said may have been a contract killing.
The central bank official, Andrei Kozlov, and his bodyguard were shot by at least one unidentified gunman in a parking lot late Wednesday outside Moscow's Spartak football club after an informal match involving central bank employees, city and federal prosecutors said.
The bodyguard died immediately while Kozlov, 41, was rushed to hospital and underwent emergency surgery during the night for wounds to the head and chest, but died Thursday of his injuries, Russian media said quoting unnamed hospital sources.
"Kozlov died without regaining consciousness," one of the sources told the agency.
The office of Russian Prosecutor General Yury Chaika will head the investigation into Kozlov's killing due to "high-profile and complex" nature of the case, Interfax news agency reported, quoting an unnamed law enforcement source.
While contract assassinations were a hallmark of business life in Moscow in the early 1990s following the collapse of the Soviet Union, such incidents have become far rarer in recent years after key turf wars between criminal groups were resolved and as the country prospered.
The last comparable high-profile killing of a Russian official on a Moscow street occurred in October 2002 when Valentin Tsvetkov, the governor of the Magadan region, was gunned down as he walked with his wife and a bodyguard down a popular shopping street.
Suspects in that killing were arrested earlier this year in Spain.
Moscow's general prosecutor, Yury Syomin, said the motive for the shooting was not immediately clear. Kozlov however was known for his strict regulation of the banking sector and Syomin said the shooting may have been connected to his work.
"We are looking into all possible versions, including his professional activities, a mistaken target, personal relations," he said.
Anatoly Aksakov, deputy head of the Russian parliament's committee on credit organizations and financial markets, said the attack on Kozlov may have been linked to his work.
"Of course it could be connected with his professional activities," said Aksakov, quoted by Interfax.
"He had a very tough position in relations to banks which (...) laundered money and engaged in other illegal activities," he said.
Aksakov mentioned Kozlov's involvement in deciding which banks to allow to take part in a national deposit insurance scheme as one incidence when Kozlov made enemies in the sector.
Since the start of the year Kozlov, who was responsible for the supervision of the banking system, rescinded the licenses of 44 or the country's roughly 1,200 banks, mostly for engaging in illegal activities, Interfax reported.
"Kozlov is one of the bravest and most active people who took responsibility and tried to change the banking system so that it functioned," said Alexander Murychev, the president of the Association of Regional Banks of Russia, Interfax reported.
Kozlov, 41, became deputy chairman of the Central Bank in 2002, according to his biography on the organization's website. He is survived by his wife and three children.
Source: AFP