Thailand's top body of legal experts Monday endorsed the disqualification of three winners in last month's general elections, despite public protests over the decision.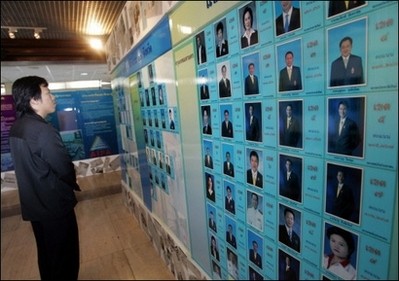 A Thai official (L) looks at the pictures of politicians who are facing investigation over alleged electoral fraud at Parliament House in Bangkok, 04 January 2008 (Photo: AFP)
Election officials disqualified three candidates from the People Power Party (PPP), which groups allies of ousted prime minister Thaksin Shinawatra, after they won seats from the northeastern province of Buriram in the December 23 polls.

Thousands of people in Buriram protested on Friday against the Election Commission's decision, complaining that they were biased against the PPP.

But the Council of State, the government's top legal advisers, on Monday said that electoral authorities had assembled enough evidence to prove that the three had violated election laws.

"The Election Commission's decision was legal, and there is enough evidence to show that the three violated the election law," the council's secretary general Achaporn Charuchinda told reporters.

The three PPP candidates were disqualified over claims that they had paid people to attend their rallies in the run-up to the election, the first since Thaksin was ousted in a coup in September 2006.

They are among 65 PPP winners under investigation for alleged voting irregularities, potentially hurting the party's chances of forming a government.

The PPP won 233 of the 480 seats in parliament, and announced that it would form a coalition government with partners from smaller parties. But the investigation has cast doubt over whether it will manage to pull together enough seats for a coalition.