The US Supreme Court should bar Chinese Muslim Uighurs held at Guantanamo Bay from being freed in the United States, a top senator said Wednesday.
Republican Senate Minority Leader Mitch McConnell said the top US court should affirm a ruling blocking the 13 detainees, who have been cleared of all charges, from being released onto US soil.
"If it does, it will bring clarity to the debate over whether terrorist detainees at Guantanamo Bay ought to be transferred to the United States," said the senator, whose home state is Kentucky.
"And that clarity is this: if you want certitude that foreign terrorists detained at Guantanamo Bay are not released into the United States, then don?t bring them here in the first place," he said.
McConnell underlined that US courts should leave control over US borders to the White House and Congress "including deciding whether and how foreign nationals outside our borders may be admitted within them."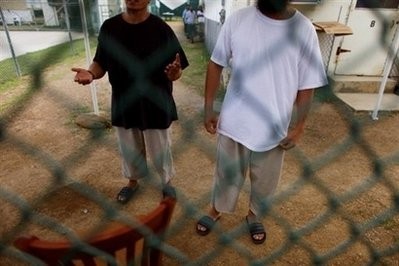 This photo reviewed by the US military shows Chinese Uighur Guantanamo detainees
A federal judge last year ordered the 13 men released in the US, where families from a large Uighur community were willing to host them.
But that decision was overturned on appeal, pushing their lawyers to turn to the Supreme Court in a bid to free the men, who hail from the Uighur Muslim minority in China's remote Xinjiang region.
The Supreme Court announced on Tuesday that it would hear the case.
McConnell also warned that the case highlighted the dangers of bringing other detainees from the notorious facility to the United States, which would give them broader rights in the US legal system and could result in their release.
"Those risks do not exist if the Obama administration does not bring Guantanamo detainees into the United States, and instead tries them at the modern, multi-million dollar courtroom at Guantanamo Bay," he said.
The US Congress has approved legislation authorizing President Barack Obama to bring Guantanamo Bay detainees to the US for trial provided they give notice and meet certain security requirements.
The men, who have been held on the US military base in Cuba for more than seven years, were among 22 Uighurs living in a self-contained camp in Afghanistan when the US-led invasion of the country began in October 2001.
Amid US administration fears that they face persecution if returned to China, five were freed in 2006 and sent to Albania, and four have been resettled in Bermuda.
Another six have accepted to go to the Pacific island nation of Palau, but are still waiting to be transferred from Guantanamo. But all 13 still remaining in the jail contend they should be released in the United States.