DAMASCUS, March 7, 2009 (AFP) - Syria can be an important and constructive force in the Middle East, a senior US envoy said in Damascus on Saturday, as Washington pursues a new policy of engaging with all countries in the region, even long-time foes.
"It is my view that Syria can play an important and constructive role in the region," Jeffrey Feltman said in a conference call with reporters in the United States after four hours of talks with Foreign Minister Walid Muallem and other officials.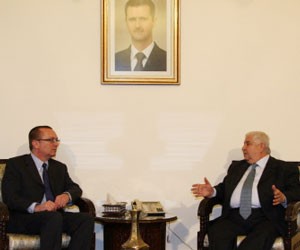 Syrian Foreign Minister Walid Muallem (R) meets with US envoy Jeffrey Feltman in Damascus on March 7, 2009 (Photo: AFP)
Feltman and White House official Daniel Shapiro arrived in Damascus earlier on Saturday for the first high-level contacts in four years, after a day of talks with leaders in neighbouring Lebanon, once dominated by Syria.
"We found a lot of common ground today," the acting secretary of state for Near Eastern affairs said without elaborating.
Feltman said the talks built on his February 26 meeting in Washington with Syrian ambassador Imad Mustafa, which he described at the time as "very frank."
He added they were "consistent with the message" from President Barack Obama and Secretary of State Hillary Clinton who "have stated the desire to use engagement with all countries in the region in order to address issues of mutual concern."
The visit to Damascus is a "concrete example of that commitment," he said.
In remarks to journalists in the Syrian capital, he said the talks had touched on a "wide range of issues," but did not elaborate.
He did not say whether the two would meet President Bashar al-Assad.
Syrian state news agency SANA said the two sides had discussed "ways to reinforce bilateral relations and exchanged views on the regional situation with the aim of achieving a comprehensive and lasting peace in the Middle East."
They agreed on the "importance of pursuing bilateral dialogue to achieve objectives that serve the common interests of both countries," SANA added.
Feltman is a former ambassador to Lebanon, while Shapiro is senior Middle East and North Africa director at the National Security Council.
The pair had expected to discuss a "long list" of concerns Washington has with Damascus -- the key ally of US arch-foe Tehran.
Washington recalled its ambassador to Syria four years ago following the assassination of Lebanon's ex-premier Rafiq Hariri, whose murder in a massive Beirut truck bombing was widely blamed on Syria.
Damascus denied any involvement in the February 2005 killing, but two months later withdrew its troops from Lebanon, ending almost three decades of political and military domination of its neighbour.
Speaking in Beirut on Friday, Feltman had said "we'll talk to the Syrians about many many issues but about Lebanon, the message is clear: the US and the international community... all agree Lebanon is for the Lebanese."
For her part, Clinton had said "there are a number of issues we have between Syria and the United States as well as the larger regional concerns that Syria obviously poses.
"We have no way to predict what the future of our relations concerning Syria might be.
"We don't engage in discussions for the sake of having conversations. There has to be a purpose to them, there has to be a perceived benefit for the US," she said.
US-Syria ties were especially tense under president George W. Bush's administration, which accused Damascus of supporting terrorism and of turning a blind eye to the flow of arms and supplies to insurgents in Iraq.
Last month, several leading US lawmakers, including Senate foreign relations committee chairman John Kerry visited Damascus for talks with Assad.
The Syrian president returned to the international fold last year with a visit to Paris. He has repeatedly called for a dialogue with Washington, describing the United States as a key referee in Middle East peace talks.
Syria held Turkish-brokered indirect peace talks with Israel last year but suspended them during Israel's three-week war on the Gaza Strip in December and January.