TOKYO, Aug 31, 2009 (AFP) - Crushed in a historic election rout, its old guard leadership in disarray, Japan's long-ruling conservative party on Monday faced up to the unaccustomed role of life in opposition.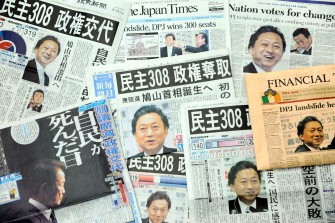 The front pages of newspapers show the face of Democratic Party of Japan leader Yukio Hatoyama and the news of his opposition party's landslide victory in the elections in Tokyo on August 31, 2009 (AFP photo)
For more than half a century, the Liberal Democratic Party (LDP) has been in government with only one break, steering Japan from wartime destruction through its miracle growth and, in recent decades, deep economic malaise.
In Sunday's watershed election, Japan's usually cautious electorate slayed the political behemoth, ending the reign of a Cold War-era party seen as increasingly unable to deal with Japan's 21st-century challenges.
The question now, observers ask, is what next for the fallen giant which ruled the country through a tight, backroom network of connections with Japan's corporate sector and the powerful state bureaucracy?
Will the demoralised party collapse? Will it quietly regroup to watch from the sidelines and hope that Yukio Hatoyama's centre-left Democratic Party of Japan (DPJ) stumbles under the weight of its reform agenda?
Will it be tempted to play dirty and dig for scandals? This is a possibility predicted by Surugadai University president Norihiko Narita, who once served as an advisor to an LDP premier, according to the Japan Times.
For now, the outlook is bleak for the grand old dame of Japanese politics.
Prime Minister Taro Aso, whose gaffes and hapless leadership accelerated the LDP's decline, said Sunday night he would step down as party chief, while the three other top party officials also fell on their swords.
A party presidential election is scheduled for September, but it is not clear who would want the job of leading the LDP, which has been riven by worsening turmoil as poll data grew bleaker and bleaker in recent months.
"I don't know if the party will be able to find anyone who could deliver good leadership, at least for the next year or two," said Yoshinobu Yamamoto, professor of politics at Aoyama Gakuin University.
"Some of its surviving members will likely seek a drastic realignment, even with members of the rival Democratic Party."
A big challenge for the LDP will be redefining itself in opposition, with key links to Japan's powerful institutions suddenly severed.
"They've always existed in symbiosis with the government and the bureaucracy," said Robert Dujarric, director of the Institute of Contemporary Japanese Studies at Temple University's Japan Campus.
"How do they survive without these ties and without the funding that comes from being in power?"
In Sunday's political bloodbath -- which reversed the balance of power in the lower house by giving the DPJ a strong majority -- former LDP prime ministers and cabinet ministers also lost their seats.
Among high-profile victims were ex-premier Toshiki Kaifu and former finance minister Shoichi Nakagawa, who famously quit in February after appearing drunk at a Rome press conference, one of several cabinet resignations that hurt the LDP.
Also badly hit were "Koizumi's children," the hit-squad of youngish candidates whom former premier Junichiro Koizumi deployed in polls four years ago against rival LDP lawmakers who resisted his free-market reforms.
One analyst said Japan's uncharacteristic hunger for change was driven by a rejection of Koizumi-era neoliberal and hawkish politics, which reflected those of his former US ally, then-president George W. Bush.
"Now the world's trend has shifted toward respecting harmony and dialogue especially after (US President Barack) Obama took power," said Jiro Yamaguchi, politics professor at Hokkaido University and a long-time LDP critic.
Sunday's election was widely seen as the dawn of a mature, two-party system in Japan after the effective one-party rule of the LDP's so-called "1955 regime," named after the year the party first took power.
Hatoyama, Japan's next prime minister, struck a conciliatory tone when he urged the LDP to embrace the new system.
"Although the LDP has received a big blow... I don't think this will lead to the destruction of the LDP," he said. "We would like to continue having strong debates on policies from now on.
"The LDP's basic strength will be renewed, and I think it should be. If not, I don't think a real two-party state will ever take root in Japan."