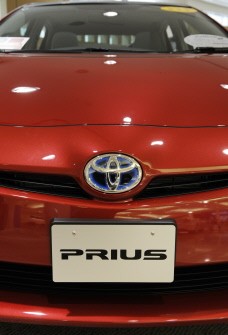 A Toyota prius hybrid car is dispayed in a showroom in Tokyo on November 5, 2009. (AFP photo)
TOKYO, Nov 5, 2009 (AFP) - Toyota Motor, the world's largest automaker, announced Thursday a surprise return to profit and upgraded its outlook for the rest of the year helped by demand for fuel-efficient cars.
Toyota posted a net profit of 21.8 billion yen (240 million dollars) for the fiscal second quarter to September, sharply lower than a year earlier but much better than the first quarter's 77.8-billion-yen loss.
Operating profit dropped 65.8 percent year-on-year to 58.0 billion yen as revenue fell 24.4 percent to 4.23 trillion yen, a company statement said.
Toyota's vehicle sales declined in each region, but the company made progress in cutting costs, said vice president Yoichiro Ichimaru.
"In addition, demand-stimulating measures by governments worldwide have contributed to our revised targets for the full fiscal year," he added. "However, the outlook for global vehicle demand still remains uncertain."
The maker of the Prius hybrid narrowed its annual net loss forecast to 200 billion yen from 450 billion and its operating loss projection to 350 billion yen from 750 billion.
Toyota joins Honda and Nissan in upgrading its outlook, adding to hopes that automakers are through the worst of the industry crisis.
For the first half to September, Toyota logged a net loss of 56 billion yen, compared with a year-earlier profit of 493.4 billion yen.
The company sold about 3.13 million vehicles worldwide in the six-month period, down 26.4 percent from the same period of the previous year.
Toyota overtook US rival General Motors in 2008 as the world's top selling automaker but it fell into the red for the first time in the year to March 2009.
The Japanese maker has idled plants and slashed thousands of jobs as it tries to weather its biggest ever crisis.
Earlier this year it appointed Akio Toyoda as its new president, turning to the grandson of its founder to rescue it from its biggest ever crisis. It announced on Wednesday it was quitting Formula One racing to slash costs.