TOKYO, Jan 29, 2010 (AFP) - Toyota raced Friday to finalise a fix for sticky accelerator pedals at the centre of a massive safety recall as rival manufacturers sought to cash in on the Japanese giant's woes.
Toyota said its parts supplier CTS had begun making pedals based on a new design that resolved the problem and the two firms are testing a remedy that will be rolled out "as quickly as possible" for cars already on the road.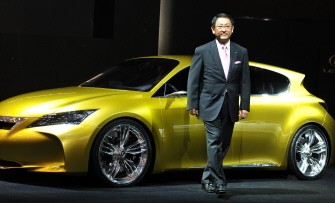 (FILES) Toyota Motor President Akio Toyoda poses next to the company's Lexus luxury brand LF-Ch five-door hybrid during a press preview at the 41st Tokyo Motor Show in Chiba, suburban Tokyo on October 21, 2009. Toyota now faces a widening safety recall. (AFP photo)
The Japanese giant was believed to be putting the finishing touches to a repair whereby it would insert a "spacer" in the pedal mechanism in order to increase the tension in a spring and reduce the risk of sticking.
Toyota is recalling 2.3 million automobiles in the United States due to the risk of the accelerator pedal becoming stuck in a partially depressed position.
At the same time, it is recalling almost 5.3 million US vehicles -- equivalent to more than two-thirds of its 2009 global sales -- to replace floor mats that could trap accelerator pedals.
Toyota's reputation as a manufacturer of reliable and safe vehicles suffered another blow Thursday as the recall action spread to Europe and China for the first time.
Toyota's shares suffered another drop Friday, closing down 1.96 percent at 3,490 yen. The shares have plunged about 14 percent this week on fears the company's profits and vaunted safety record will be tarnished by the problems.
Toyota raced past US giant General Motors in 2008 to become the world's top-selling automaker, but it has been bedevilled by a series of safety issues that have raised questions about whether it sacrificed quality for quantity.
A key US House of Representatives panel said Thursday it would hold a February 25 hearing on the accelerator issues.
"Incidences of sticking accelerators have been ongoing with Toyota vehicles for up to a decade, and have led to a disproportionately high number of deaths. Failure to take every step possible to prevent future deaths or injury is simply unacceptable," said Democratic Representative Bart Stupak.
"Our hearing will press for answers about the source of this accelerator defect and investigate whether adequate measures have been taken to ensure the safety of Toyota vehicle owners and all Americans on the road," said Stupak.
The US National Highway Traffic Safety Administration (NHTSA) has found that sudden acceleration events in Toyota vehicles have led to 19 deaths in the past decade, nearly twice the number of deaths associated with similar events in cars manufactured by all other automakers combined, the committee said.
Ford said Thursday it was suspending production of a commercial vehicle sold in China that uses a pedal part made by CTS, the same US firm that makes pedals for Toyota, though based on the Japanese company's own design specifications.
Toyota's foreign rivals are seizing on the group's problems in an effort to regain market share lost in recent years.
General Motors is offering US owners of Toyota cars and trucks 1,000 dollars or free financing if they buy a GM model by the end of February.
Ford chief executive Alan Mulally said Thursday his group also hoped to take advantage of the trouble at Toyota.
"With the void now for people needing a vehicle I'm sure there's going to be more interest in Ford," Mulally said.
Kia Motors, South Korea's number two car maker, said Friday it was aiming to lure customers away from Toyota.
Japan's Honda and Nissan, however, ruled out offering any special incentives to customers to take advantage of Toyota's woes.
"Our sales activity is based on a long-term plan and not a short-term strategy," a Honda spokeswoman said.