WASHINGTON (AFP) – The US government warned Monday that it was not done investigating Toyota after the Japanese automaker announced more recalls and agreed to pay a record 16.4-million-dollar fine.
"By failing to report known safety problems as it is required to do under the law, Toyota put consumers at risk," US Transportation Secretary Ray LaHood said in a statement.
"I am pleased that Toyota has accepted responsibility for violating its legal obligations to report any defects promptly."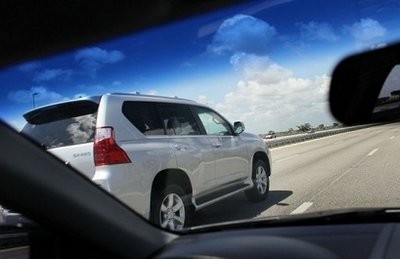 A Lexus GX 460 SUV is seen traveling on a highway on April 13, in Sunrise, Florida. AFP photo
Toyota failed to disclose a "sticky pedal" defect for at least four months despite knowing the potential risk to consumers, the National Highway Traffic Safety Administration (NHTSA) said.
Under federal law, automakers are required to disclose defects within five business days.
Meanwhile Monday the company also announced a formal recall of nearly 20,000 affected Lexus GX 460 sport utility vehicles in the United States, Canada and Europe after a US consumer magazine warned of a rollover danger.
Toyota said in a statement that it "denies NHTSA's allegation that it violated the Safety Act or its implementing regulations" and regrets that the agency chose to levy a fine.
"We believe we made a good faith effort to investigate this condition and develop an appropriate counter-measure," the world's largest automaker said in a statement.
"We have acknowledged that we could have done a better job of sharing relevant information within our global operations and outside the company, but we did not try to hide a defect to avoid dealing with a safety problem."
Toyota said it agreed to pay the fine "in order to avoid a protracted dispute and possible litigation, as well as to allow us to move forward fully-focused on the steps to strengthen our quality assurance operations."
It is the largest civil fine against an automaker ever sought by US authorities and relates to defects that affected 2.3 million vehicles recalled in the United States in January.
A lawyer representing Toyota owners seeking compensation for a loss in resale value in a massive class action suit rejected Toyota's protestations of innocence.
"Usually people that are innocent don't pay 16.4 million dollars for the fun of it," Tim Howard told AFP.
"What else can they say? By the way I'm liable for ripping off and endangering the American consumer? They have four or five billion reasons not to say that," he said, in reference to the damages Toyota could be liable for in civil suits.
Toyota has come under intense scrutiny after it issued roughly 10.5 million recall notices worldwide in the last seven months.
Toyota executives were hauled over the coals in the US Congress earlier this year and the company's previously stellar reputation for safety was left in tatters.
More than 50 deaths in the United States have been blamed on defects that allegedly caused the vehicles to speed uncontrollably and Toyota faces a slew of legal challenges in US courts.
In March, the US government announced a series of investigations into the causes of "unintended acceleration" in Toyotas and other brands of cars, calling in NASA space agency engineers to help.
The Department of Transportation plans to buy cars that are suspected of unintended acceleration and subject them to a battery of tests.
The NHTSA is itself under fire for allegedly failing to adequately review consumer complaints about Toyota and other cars, but it is the beleaguered Japanese carmaker that remains in the spotlight for now.
Toyota overtook General Motors in 2008 as the world's top automaker. But the safety issues that have recently bedeviled it have raised questions about whether it sacrificed its legendary quality to become number one.
The latest blow to the company's reputation came just last week.
Toyota suspended production and global sales of the Lexus GX 460 sport utility vehicle Thursday after US magazine Consumer Reports gave the SUV a rare "Don't Buy: Safety Risk" rating because of a rollover danger.
On Monday, it announced a formal recall of nearly 20,000 affected vehicles in the United States, Canada and Europe and said "vigorous testing" had found a remedy for problems with the vehicle stability control system.
Toyota said it has implemented a number of measures to respond more rapidly when customer complain of problems with their vehicles and to improve its overall quality standards.
"We are proud of the vehicles that Toyota produces and are confident they are among the safest on the road," the automaker said in a statement.