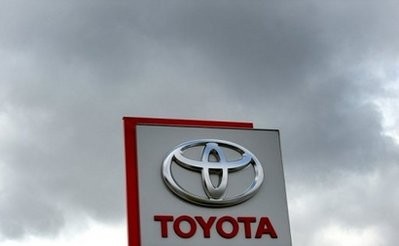 The Toyota logo is pictured outside a car dealership in northwest England. AFP photo
TOKYO (AFP) – Japanese automaker Toyota suspended worldwide sales of the Lexus GX 460 sport utility vehicle Thursday due to a roll-over risk and said it would test all its SUVs for safety.
"The company has decided to suspend the SUV's sales worldwide, which means also in Russia and Middle East after North America," said Toyota spokeswoman Mieko Iwasaki, in reference to the other markets where the vehicle is sold.
The move comes a day after Toyota suspended sales of the GX in the United States and Canada after US magazine Consumer Reports gave the SUV a rare "Don't Buy: Safety Risk" rating.
In the latest blow to the reputation of the embattled Japanese auto giant, the report claimed that when pushed to its limits, the rear of the GX "slid out until the vehicle was almost sideways before the electronic stability control system was able to regain control".
Having now suspended the SUV's sales worldwide, Toyota said it will work on analysing potential safety risks in the model which has sold 6,000 units, as well as its other SUVs.
"The company is examining the possible problem and will decide what remedies should be taken," Iwasaki said.
Toyota "will start testing all the other SUV models, including the Land Cruiser, Land Cruiser Prado and Rav4," she said, adding that the company will continue to sell those models.
The automaker has recalled millions of cars worldwide since late 2009, mostly over a series of problems linked to "unintended acceleration."
Toyota, which overtook General Motors in 2008 as the top-selling automaker, has been bedevilled by a series of safety issues that have raised questions about whether it sacrificed its legendary quality to become world number one.
The recalls have caused an outcry in the United States, with Toyota executives hauled over the coals in the US Congress and the company's previously stellar reputation for safety left in tatters.
The company faces a record 16.4-million-dollar fine in the United States for its failure to notify authorities quickly about vehicle safety problems.