Japan's Toyota Motor may recall its vehicles in Europe due to an accelerator problem that triggered massive recalls in the United States, a newspaper reported on Saturday.
The world's largest automaker is considering recalling Corolla, RAV4 and other models produced and sold in Europe, the Mainichi Shimbun reported, adding that it was not clear how many vehicles were involved.
The models are equipped with similar accelerator pedal parts to those of 2.3 million vehicles recalled in the United States, the latest in a series of recalls by Toyota, the daily said.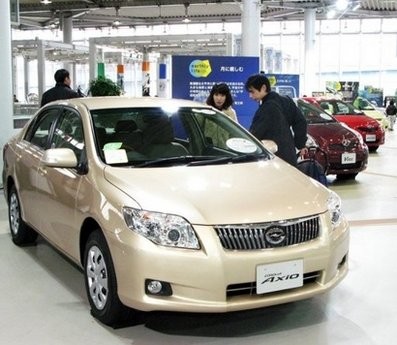 Customers are seen looking at a Toyota Corolla Axio at a Toyota showroom in Tokyo
The Japanese company's US division said Thursday that the recall was to correct accelerator pedals on the vehicles that become worn and then in some cases get lodged in a partially depressed position.
The action was separate to an ongoing recall of about 4.2 million Toyota and Lexus vehicles that began last year due to a risk of loose floor mats slipping forward and jamming the pedals.
An unnamed senior official of the company told the daily: "We cannot tell how much this recall will cost, but it can be handled within our reserve (for unexpected troubles)."
But Mainichi said a decline in Toyota's reputation for quality following the malfunction may trim its earnings, adding it could take time for Toyota to recover customers' confidence in its production.
Toyota, which overtook US rival GM in 2008 as the world's largest automaker, returned to profit in the three months to September and upgraded its outlook for the rest of the year thanks to demand for fuel-efficient cars