Negotiators from 12 member countries of the Trans-Pacific Partnership (TPP) yesterday gathered in Brunei for the 19th round of TPP negotiations, with Japan joining for the first time after it became a TPP member last month.
The nine-day round will focus on 10 issues, including intellectual property right, state-owned business and tariffs.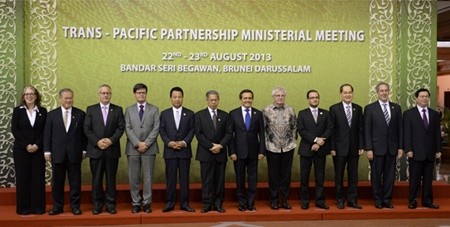 Pacific nations begin new negotiations
A ministerial meeting opened early the same day marking the start of the negotiations in a context that all TPP members try to facilitate the talks so that an agreement can be reached this year.
Besides official meetings, ministers and ministerial-level officials of TPP's members will also hold bilateral sessions to present their requests and offers related to tariffs.
TPP member countries currently include Australia, Brunei, Canada, Chile, Japan, Malaysia, Mexico, New Zealand, Peru, Singapore, the United States and Viet Nam. The 12 countries create a market of 790 million people and account for about one-third of the global trade.
The 19th round of the TPP started yesterday and ends on August 30. For the first two days, trade ministers of ASEAN countries are also be in attendance.
No ASEAN impact
ASEAN Secretary General Le Luong Minh has affirmed that the participation of ASEAN member countries in both the TPP and the recently commenced Regional Comprehensive Economic Partnership (RCEP) will not adversely impact the regional integration process.
Four ASEAN members currently in the TPP negotiations are Malaysia, Singapore, Brunei and Viet Nam, and there has been interest shown by other member states, such as the Philippines, Thailand and Laos. ASEAN dialogue partners, including Japan, Australia and New Zealand, are also participants in the negotiations.
The Business Times quoted the Secretary General as saying at a media briefing following the 45th ASEAN Economic Ministers (AEM – 45) summit and related meetings in Brunei on Wednesday: "We consider their participation as mutually complementary, rather than conflicting. We hope both talks will progress well."
Besides ASEAN's 10 members, the RCEP also involves free trade agreement partners, namely China, Japan, the Republic of Korea, India, Australia and New Zealand, while the TPP includes Canada, Chile, Peru, Mexico, the US and Japan.
Brunei's Second Foreign Affairs and Trade Minister Lim Jock Seng said ASEAN will be negotiating a free trade agreement with Hong Kong (China) and talks are set to start in early 2014.