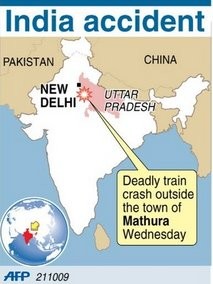 Map of India locating the area where a deadly train crash on Wednesday killed up to 9 people. (AFP graphic)
AGRA, India (AFP) – An Indian express train ploughed into the back of another near the Taj Mahal town of Agra early Wednesday, killing at least nine and trapping dozens in the wreckage, officials said.
Local television channels put the death toll at 10-15, while the local railway office confirmed nine dead to AFP in the crash outside the town of Mathura, 50 kilometres (30 miles) north of Agra in northern India.
Rescuers, working with mechanical cutters amid a huge crowd of onlookers, were battling to reach dozens of people feared trapped in one badly mangled carriage that had derailed due to the impact of the collision.
"Nine are dead and 15 injured," Bhupinder Dhillon, a spokesman for the local divisional railway manager in Agra, told AFP.
The railway manager, Rajendra Dutt Tripathi, told AFP earlier the crash happened at 5:30 am local time (0000 GMT) and that rescue teams, including the army, were working to rescue people still inside the carriages.
An express train from the southern state of Goa heading to Delhi ran into the back of a stationary train, the Mewar express, which is an overnight service linking the state of Rajasthan with the capital.
Tripathi told AFP that initial reports suggested the Mewar express was at standstill because a passenger had pulled the emergency chain and the driver of the Goa express had overlooked a signal requesting him to stop.
"These are a matter of investigation and a final conclusion can only be reached after a detailed inquiry," he said.
R.D. Vajpayee, chief spokesman for northern railways, told NDTV that the company would pay 500,000 rupees (10,800 dollars) to the families of the dead.
"There are many people who are injured and many people who are dead," an unnamed eyewitness told CNN-IBN. "A lot of people fell onto the tracks because of the impact of the collision."
The railway system -- still the main form of long-distance travel in India despite fierce competition from new private airlines -- carries 18.5 million people daily.
There are 300 accidents on the railways every year. In February, at least 16 people were killed and 60 injured when 12 carriages of a passenger train derailed in eastern India.