CANNES, France (AFP) – Reclusive US director Terrence Malick clinched the Palme d'Or at the Cannes film festival for "The Tree of Life", a fantastical family drama uniting Brad Pitt and Sean Penn on screen.
Malick did not turn up at the gala awards ceremony Sunday, after which jury president Robert De Niro said the epic had "the size, the importance, the intention, whatever you want to call it, that seemed to fit the prize".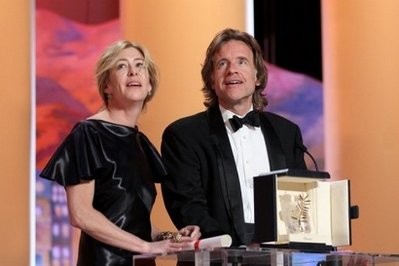 AFP - Reclusive US director Terrence Malick (not pictured) clinched the Palme d'Or at the Cannes film festival for The Tree of Life
Kirsten Dunst won acting honours for her turn as a depressed bride facing the apocalypse in "Melancholia" by Denmark's Lars von Trier, who was expelled from the festival for making an awkward joke about his sympathies for Hitler.
"Well, what a week it's been," she quipped, referring to the scandal which marred what critics otherwise hailed as a vintage year at the world's top cinema showcase. She skipped a post-ceremony press conference.
Fellow Dane Nicolas Winding Refn claimed best director for his high-octane thriller "Drive" starring Canada's Ryan Gosling as a stunt driver who moonlights as a wheelman for armed robbers in what was probably the most commercially viable of the 20 Cannes contenders.
France's Jean Dujardin, who charmed critics with his role as a fading 1920s film star in Michel Hazanavicius's silent black-and-white feature "The Artist", took the best actor laurel.
Notoriously exacting, the 67-year-old Malick has only made five films in 38 years, including "Days of Heaven" for which he won the Cannes best director prize.
One of the most hotly anticipated tickets in town, "The Tree of Life" divided critics, drawing cheers and equally insistent boos when it was unveiled to Cannes critics.
It was the first US film to win since 2004, when Michael Moore took home the gold for the political documentary "Fahrenheit 9/11".
The sweeping picture stars Pitt in 1950s Texas as a domineering father of three boys one of whom grows up to be a disaffected adult (Penn) struggling with the legacy of his troubled upbringing and a sudden tragedy in the family.
Drawing on themes of nature and grace, the film features lyrical scenes of the family at home interwoven with computer-generated images of the origins of life, dinosaurs, a meteor striking planet Earth -- putting the problems of a few individuals in America into cosmic perspective.
The New York Times said it marked "an affirmation of Mr Malick's belief in the power of cinematic images to express the sublime" while film industry bible Variety called it "in many ways his simplest yet most challenging work".
The runner-up Grand Prix was shared by Belgium's Dardenne brothers for "The Kid With a Bike" about an abandoned boy and the woman bent on saving him, and "Once Upon a Time in Anatolia", a police drama by Turkey's Nuri Bilge Ceylan.
The competition featured a record four women film-makers but only French actress-director Maiwenn picked up a gong, the third-place Jury Prize for "Poliss" about a closely knit Child Protection Unit of the Paris police.
Israeli director Joseph Cedar won the best screenplay prize for "Footnote", which recounts the decades-long rivalry between a father-son pair of Talmudic scholars.
Some of the biggest names in European cinema saw themselves shut out on awards night including Pedro Almodovar, whose thriller about radical cosmetic surgery "The Skin I Live In" audiences applauded.
Finnish director Aki Kaurismaki's "Le Havre" about illegal immigration in France and Italy's Paolo Sorrentino's eccentric road movie "This Must Be the Place" starring Penn also defied expectations by being ignored by the jury.
A-listers sprinkled stardust during the 12-day event, including Penn, Pitt, his partner Angelina Jolie, Johnny Depp and Penelope Cruz, plus Woody Allen who turned up for his festival-opening romantic comedy "Midnight in Paris".
Cruz starred with Depp in "Pirates of the Caribbean: On Stranger Tides" in 3-D, shown out of competition.
And attendees of the festival's sprawling market where film rights are bought and sold reported a bumper year.