PARIS, Aug 9, 2011 (AFP) - European Central Bank chief Jean-Claude Trichet on Tuesday called on European governments, notably Italy and Spain, to "do their duty" in reducing their public deficits and stabilising their finances.
"We expect governments to do what we consider to be their work, their duty," Trichet told Europe 1.
"We have been extremely clear with the Italian government over recent days in asking for a number of decisions to be taken, which have been taken, and to speed up in particular a return to a normal budgetary situation," he said.
"We have asked the same thing of the Spanish government.
"We have asked european governments as a whole, 17 of them, to speed up the decisions taken on July 21 during a eurozone meeting."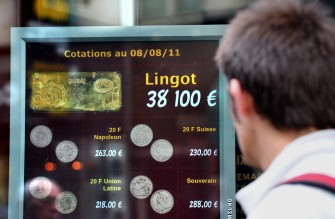 AFP - A man looks at prices at a gold wholesale agency, on August 8, 2011 in Paris.
The European Central Bank said Monday it would resume purchases of eurozone government bonds so as to ease the pressure on the weakest, notably Italy and Spain, whose borrowing costs soared to unsustainable levels in recent weeks.
On Tuesday, the pressure eased further on Italian and Spanish bonds but stock markets globally were down very sharply, reflecting growing nervousness over the economic outlook.