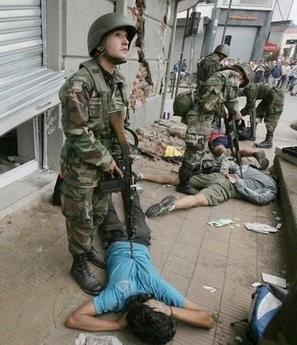 Chilean soldiers arrest alleged looters in Concepcion, Chile. AFP photo
CONCEPCION, Chile, Mar. 2 (AFP) – Thousands more troops deployed across Chile as armed vigilantes patrolled neighborhoods to ward off looters and soldiers began distributing emergency aid to desperate survivors.
"The thugs have taken over the city. Now we are not afraid of the earthquakes, we're afraid of the criminals," Marcelo Rivera, the mayor of Hualpen, told a Chilean radio station.
President Michelle Bachelet doubled the number of troops patrolling the worst-hit areas to 14,000 and an 18-hour curfew was imposed in Chile's second city Concepcion.
"Military personnel will be present in the streets of Concepcion until midday to maintain public order, and they will not waver in carrying out their duties," warned General Guillermo Ramirez.
A similar curfew was also imposed on three other towns badly damaged by Saturday's 8.8-magnitude quake, which was so strong it triggered a Pacific-wide tsunami and, according to a NASA scientist, probably shifted the Earth's axis.
Chile's president-elect Sebastian Pinera said the unrest caused by looters was "absolutely unacceptable."
"It simply worsens the already catastrophic situation we're in," he said, adding his support for Bachelet's efforts to restore order.
"This is not the time to evaluate the performance of the government. This is not the time to cast blame... This is the time to provide solutions, and evaluations can come later," said Pinera, who will take office on March 11.
Bachelet, outraged at reports of stores being looted and torched, said it was unacceptable that "people have to organize mechanisms for their self-defense, just to hold onto the few possessions that they still have after the earthquake."
Hualpen mayor Rivera urged the government to send in a contingent of troops, and grimly warned: "If they have to kill, then let them kill."
Bachelet defended her government's handling of the crisis as the first aid supplies began trickling into areas worst affected by the quake.
She said troops now had fanned out with water and food in the hard-hit Maule and Bio Bio river regions, where destruction was vast and looting rampant after Saturday's temblor, one of the worst on record.
One of Latin America's richest countries, Chile has nonetheless struggled to cope with the scale of the disaster and appealed for outside aid as it works to help and protect survivors.
US Secretary of State Hillary Clinton arrived in Santiago Tuesday and delivered satellite phones requested by Bachelet, whom she greeted with a hug at the airport.
Clinton pledged continuing US assistance as the official death toll rose to around 800 -- a figure expected to rise sharply as relief teams reached more isolated areas.Related article: Vigilantes barricade Chile streets to thwart looters
"The tsunami affected 200 kilometers of coastline, at places sweeping 2,000 meters inland," General Bosco Pesse, who is running emergency operations in the Maule region of a quarter million people, told AFP.
"Some 600 people died in this area, but the toll could climb to 1,000."
National emergency office chief Carmen Fernandez said aid efforts had been ramped up.
"The distribution network is up and running and aid is being distributed," she said, adding that some 5,000 temporary shelters had been set up Tuesday.
Chilean television showed two army helicopters touching down in Constitucion, a coastal town in the Maule region, with 2.5 tonnes of aid including canned tuna, tea bags, and milk.
In Concepcion, a university town of about 600,000 people located some 500 kilometers (310 miles) south of Santiago, soup kitchens were open, water tanker trucks were making the rounds, and aid was being handed out in some areas.
But elsewhere in the city, hungry, desperate people roamed the streets looking for food and water, while other residents organized self-defense groups to protect their homes and remaining possessions, barricading streets.
Two million people, or one-eighth of the population, are said to have been affected by the quake and rescue workers were still trying Tuesday to extract survivors from the rubbleRelated article: Rescuers struggle to find missing after Chile quake
A team in Concepcion worked desperately to try to reach seven people believed to still be alive inside the ruins of a toppled apartment building.
Rescue workers heard signs of life coming from an apartment on the sixth floor of the building several days earlier, but had not been able to reach anybody.
"We know at least four people are on the sixth floor, but I don't know if they're alive or dead," said Miguel Diaz, a rescue worker on the ground.
"We're working to get inside the building from the underneath to try and get them out."