Troops armed with dynamite scrambled on Tuesday to blast through debris damming a quake lake in southwest China, as forecasts of heavy rain threatened more misery for millions of homeless people.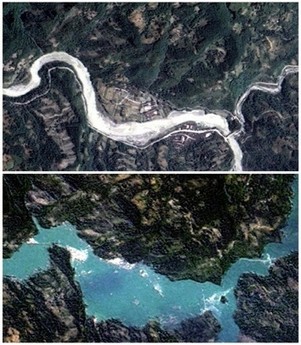 These handout images from Taiwan's National Space Organisation show before and after photos of a swelling lake created near the epicentre of the devastating Sichuan earthquake. Another 80,000 people will be evacuated from the area near the dangerously swelling lake formed by landslides triggered by this month's massive earthquake, state press reported.(AFP/NSPO)
With the May 12 earthquake death toll already standing at more than 65,000, officials desperate to avoid another disaster sent 1,800 troops and engineers to try to reduce the dangerously high water levels in the lake.
But thunderstorms predicted to sweep across the mountainous region of Sichuan province on Tuesday threatened to make it a race against time.
The lake, now holding 130 million cubic metres (4.6 billion cubic feet) of water, was created when the quake triggered a landslide that blocked the Jian river near the epicentre.
"We should work out the risk analysis reports as soon as possible because the rain upstream is raising the water level," Chen Lei, the minister of water resources, was quoted as saying in the China Daily.
The paper said 1.3 million people living in adjacent areas would be at risk if the lake overflowed. As a precaution, 30,000 people have already been evacuated to higher ground.
Liu Ning, the ministry's chief engineer overseeing the operation, said the water level on Monday was 725 metres -- just 26 metres below the lowest part of the barrier.
He said people had to be moved for their own safety. "It's better for them to complain about the trouble that the evacuation would bring than to shed tears after the possible danger," he told Shanghai-based Oriental TV.
Li Huzhang, an engineer with the paramilitary People's Armed Police, said at least 50,000 cubic metres of debris would have to be removed but that rescuers were aiming for 100,000 cubic metres to minimise the risk.
Engineers and soldiers took turns to work through the night, the state news agency Xinhua reported. Because of a lack of tents, some soldiers had to sleep outdoors on the debris.
The lake is inaccessible by road and the teams of soldiers, engineers and police had to hike through remote and mountainous terrain.
A PLA (People's Liberation Army) officer told Xinhua the soldiers each had 10 kilogrammes of dynamite and planned to carry out small blasts.
A contingent of 105 armed police from east China's Jiangxi province was expected to arrive in Sichuan on Wednesday and would be flown directly to the quake lake, Xinhua said.
The site is one of about 35 quake lakes that could cause huge problems if they burst, authorities have said.
Meanwhile, the forecast of more rain was causing jitters among locals living in makeshift camps near their collapsed homes.
"The tents are hot like ovens inside because they are in the direct sunlight," said 42-year-old Wang Sumu. "When it rains, they will be even more unbearable."
Since May 12, China has had to cope with thousands of quake aftershocks and a myriad of other dangers while trying to bring food, shelter and medical help to the millions left homeless across an area the size of South Korea.
More than 23,000 people are listed as missing, meaning the death toll from China's worst quake in a generation could rise to over 80,000.
The area was rocked by its biggest aftershock yet on Sunday, killing eight people, toppling tens of thousands of damaged buildings and underlining the lingering risks from the quake, which measured 8.0 on the Richter scale.
The government said last week that just over 5.4 million people lost their homes. Many now live in tents or hastily erected units in temporary camps, but an untold number are still living without any shelter at all.
Authorities have, however, relaxed China's strict family planning policies for bereaved families , state press reported.
New guidelines allow couples who lost their only child to have a second as long as they get official permission, the Chengdu Evening News said.
China's one-child policy generally permits families living in urban areas to have one child and rural families two if the first is a girl.
The quake struck in the middle of the day when schools were full, sending entire floors crashing down on each other and burying children before they had a chance to escape.
Many parents are now demanding answers as to why so many schools collapsed so easily, amid allegations of lax government oversight that permitted shoddy construction work.