SINGAPORE, Nov 4, 2010 (AFP) - A troubled Qantas Airbus A380 plane made an emergency landing in Singapore on Thursday with smoke coming out of its underside and was quickly surrounded by six fire engines.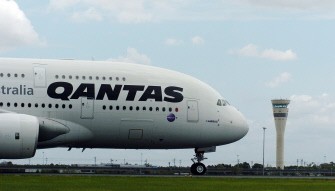 )AFP FILES) A Qantas Airbus A380 taxis past the control tower after touching down at Brisbane International Airport on November 15, 2005.
Fire engines immediately swarmed the aircraft as soon is it landed on the tarmac on Changi Airport.
"I can see smoke coming out of it," the reporter said, adding that firefighters were spraying the aircraft with a brown liquid.
"One of the engines on the left wing looks blown off. It is black and has jagged edges," the reporter added.
A Qantas spokesman said the plane bound from Singapore to Sydney had 433 passengers on board and there were no immediate reports of injuries.