A troubling portrait emerged Thursday of the disturbed teen who turned a cheerful shopping center into a killing field in a bid to gain fame as he ended his life.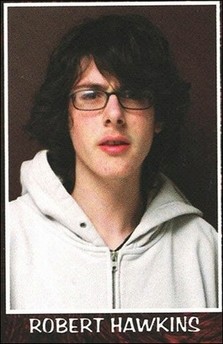 This photo received courtesy of Papillion-La Vista Schools (PLVHS) shows Robert Hawkins
Police said it took just a few minutes for Robert Hawkins, 19, to slaughter eight people and seriously wound five others in Omaha, Nebraska as he randomly let loose a hail of bullets from an AK-47 assault rifle he had stolen from his estranged stepfather.

Hawkins was no stranger to trouble or mental illness, but the high-school dropout had been turning his life around until he cracked after breaking up with his long-time girlfriend and being fired from his job at McDonald's when accused of stealing 17 dollars.

The woman who took the troubled teen into her home after a brief stint on the streets said that while he was obviously depressed, he had shown no previous signs of violence.

"He came to us like a little lost puppy. Scared and lonely. He wasn't a violent person," Debora Maruca Kovac told CBS News.

"He was always very sensitive and caring, always wanting to know how everybody was doing."

Hawkins had suffered from behavioral problems as early as 14, when he became a ward of the state after his parents could no longer afford to pay for treatment in a residential rehab center.

He had been placed in treatment after displaying "homicidal tendencies" towards his stepmother, officials said, citing court documents.

Hawkins spent years in mental health and substance abuse treatment, had run-ins with the law and even lived briefly in foster care before being returned to his father's care shortly before he turned 18, the Nebraska Department of Health and Human Services said.

He didn't stay there long.

Friends told the local media that Hawkins, who went by the name Robbie, had been getting his life on track after leaving home when his parents said he has to follow their rules or get out.

"He'd quit some of the bad habits he'd had and had gotten a job," one unidentified young man told KETV news.

But another friend told the station that while Hawkins wasn't an angry person, he did want to go out like a star.

Andrew Bigler said people probably think Hawkins is a "little terrorist," but that he was really a great guy.

"He was like a brother to me," Bigler said. "I loved him."

Hawkins called his adoptive family about an hour before the rampage began. He was upset, and told Maruca Kovac that he'd lost his job.

"I told him, 'Well just come on home we'll talk about it -- it's just not that big of a deal,'" she explained. "He said it was too late."

Hawkins said he had been a burden to all his friends and family and didn't want to be one anymore. He thanked Maruca Kovac for everything her family had done for him and told her that he'd left them a note.

"It said how much he loved his family and all his friends and how he was sorry he was a burden to everybody," she said. It also said that "his whole life he was a piece of shit and now he'll be famous."

Maruca Kovac said she never imagined that Hawkins would "involve so many other families." She called his estranged mother, who picked up the note and brought it to the police, and her sons went out looking for the youth.

She didn't hear about the mall shooting until she showed up for her job as a nurse at a local hospital.

"I feel so sorry for him that he was so lost and alone that he had to resort to this," Maruca Kovac said.

Shopping centers across America stepped up security to protect shoppers during the busy holiday season in the wake of the deadly shooting.

Several shopping malls increased patrols but industry officials acknowledged that such tragedies are difficult to prevent.

Shopping centers, which are considered by security experts a "soft" target for terrorism, already implemented tighter security measures following the attacks of September 11, 2001.

The FBI warned last month of potential Al-Qaeda attacks on US shopping malls during the Christmas season, but conceded that the threats received may not be credible.