TOKYO, April 3, 2011 (AFP) - A tsunami-hit Japanese port town where more than half the population are now homeless started a mass evacuation Sunday of some 1,100 people to shelters elsewhere.
Minamisanriku in Miyagi prefecture -- a town which had a pre-disaster population of about 17,500 -- has had about 9,500 people living in shelters in the aftermath of the March 11 quake and giant ocean wave.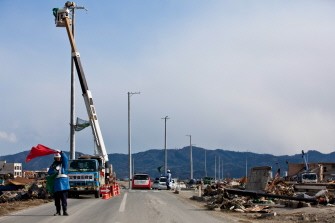 A worker signals drivers as electric line poles are being reconstructed in Minamisanriku, Miyagi prefecture on March 28, 2011. AFP
In the first wave of evacuation, buses were taking people to 10 facilities in the cities of Kurihara, Tome, Osaki and the town of Kami in Miyagi.
"We are hoping the mass evacuation will improve living conditions for the residents, even if it's only a small improvement," said Miyagi official Hiroyuki Ishihara.
"The evacuees are expected to stay in the facilities until temporary housing is constructed. It could take a long time, between six months and one year."
One of those leaving, 75-year-old Koichiro Ouchi, said, "this is my limit for living without water or electricity," Kyodo News reported. "I want to come back someday for sure and rebuild the town."