TUNIS (AFP) – Tunisia on Friday began national mourning for victims of the "Jasmine Revolution" that toppled veteran ruler Zine El Abidine Ben Ali, as the new government legalised banned political parties.
The three-day mourning is for the 78 people Tunisian officials say were killed when security forces tried to quell protests that started mid-December, culminating in Ben Ali's shock ouster.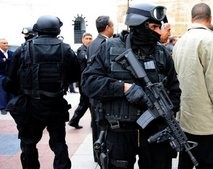 AFP – Bodyguards of Tunisian Interior Minister Ahmed Friaa stand guard during the first session of the newly appointed transitional cabinet Tunis.
The United Nations puts the toll at 100 dead.
The interim government approved a general amnesty bill that would free political prisoners and legalise banned political parties at its first meeting on Thursday, headed by interim president Foued Mebazaa.
Banned political groups include the Islamist movement Ennahdha (Awakening), whose leader Rached Ghannouchi, exiled in London, was handed a life sentence by Ben Ali's regime for plots against the state.
It also ordered the seizure of all assets of the ex-ruling Constitutional Democratic Rally (RCD) party.
The interim government was due Friday to get down to planning a new election in the north African nation, ruled by Ben Ali for 23 years until his forced departure into exile after street protests sparked by joblessness, poverty and corruption.
The transition government has promised to stage presidential and parliamentary elections within six months but has given no precise dates. According to the constitution, they must be held within two months.
Cabinet member Ahmed Ibrahim, head of the ex-communist Ettajdid party, said: "There are laws to write, and laws to review, in a spirit of cooperation with all points of view and sensibilities."
Eight new ministers who had been RCD members announced they had quit the party earlier Thursday in an effort to distance themselves from Ben Ali's autocratic rule.
Every day since 74-year-old Ben Ali fled, huge protests have demanded the outlawing of the RCD which has essentially run Tunisia since independence from France in 1956.
Tunisian authorities have announced the arrest of 33 members of Ben Ali's family, showing footage on state television of luxury watches, jewellery and credit cards seized in raids on their homes.
A report said Tunisia's state coffers were missing 1.5 tonnes of gold, amid speculation that the ousted president and his wife had collected the ingots before fleeing.
Tunisia had 6.8 tonnes of gold in December, a level unchanged for at least a decade, according to a December online report issued by the World Gold Council, which is also in line with estimates issued by the International Monetary Fund.
Tunisia's central bank this week said it held about 5.3 tonnes, but dismissed reports that Ben Ali's family had withdrawn the gold, saying the bank vaults were "under draconian security measures."
According to French intelligence cited by French daily Le Monde, Ben Ali's wife Leila Trabelsi had gone to the bank to withdraw the gold. The governor initially resisted, but backed down under pressure from Ben Ali himself.
French TV TF1 also reported that the gold was withdrawn in late December.
The European Union is planning to freeze the assets of Ben Ali and his family. A final decision is expected at the end of the month.