Tunisia's opposition reacted positively Friday to a speech by President Zine El Abidine Ben Ali, who said he would not seek another term in office and promised to liberalise the political system.
After nearly a month of riots that initially focused on unemployment, sparked by the suicide of a young graduate who set himself alight, the president appeared on television in a bid to calm tensions.
"The positive fact is that the president decided not to stand again" said Mohammed Nejib Chebbi, long-standing leader of the Progressive Democratic Party, which is legal but not represented in parliament.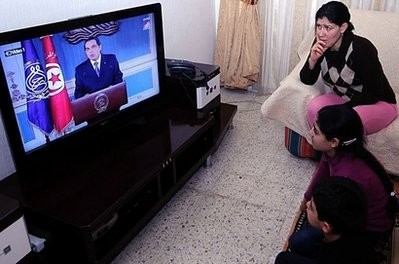 A Tunisian family watches as President Zine El Abidine Ben Ali gives a speech
In his state of the union speech, Ben Ali vowed not to stand for re-election in 2014 and said his forces should no longer use lethal force against demonstrators, after rights groups said at least 66 people had been killed.
Following foreign criticism of the country's democratic record, Ben Ali promised to introduce "total freedom" of information and Internet access and vowed reforms.
"I say again to you here that I want to deepen democracy and to revitalise pluralism in our country," he said.
The president promised to lower prices of basic commodities such as milk, bread and sugar.
"This speech opens up possibilities," declared Mustapha Ben Jaafar, head of the Democratic Forum for Work and Liberties.
He added, however: "These intentions still have to be applied."
Member of Parliament Ahmed Ben Brahim, head of the former communist Ettajdid party, said: "It's positive, the speech answers questions that were raised by our party."
Human rights militant Bouchra Bel Haji, said Ben Ali had "freed us and freed himself".
But not everyone was so positive, with another human rights defender Mohamed Abbou declaring he did not believe the president and that Ben Ali was "fooling the Tunisians with promises that have no tomorrow".
A contrite Ben Ali, 74, who has ruled the North African country with an iron fist for the last 23 years, said that he did not intend to scrap a constitutional upper age limit for candidates.
"I say no to being president for life and I refuse to alter the age limit set by the constitution," he added.
"Enough firing of real bullets," he said, adding in a rare admission that he had been "wrong" in his analysis of the country's social ills and promising a full inquiry to establish "each and everyone's responsibilities".
But even as the president addressed the nation, two people were killed as police opened fire on protesters in central Tunisia, witnesses said.
The witnesses, who asked not to be named, spoke of chaos in the town of Kairouan where pillaging had taken place over several hours.
Near Tunis, in the El Ghazala neighbourhood, clashes took place late Thursday between the police and demonstrators around a technological centre guarded by the army, an AFP journalist said.
Ben Ali's address came as weeks of spreading anti-government protests intensified and after deadly violence that started in the western Sidi Bouzid region reached the capital late Tuesday.
Even before the reports of the latest two people to be shot, the Paris-based International Federation for Human Rights said eight others had been killed in clashes around Tunis overnight Thursday.
Residents reported that angry youths had burned cars and attacked state offices in defiance of a curfew, while police and anti-riot units deployed into central Tunis in force.
Security forces used tear gas to try to disperse a demonstration in the city centre, and then opened fire, witnesses said.
One demonstrator was killed and another seriously wounded, said one witness. Another said the wounded man had died but this was not confirmed.
Former ruler France meanwhile added to concerns already voiced by the United Nations, European Union and United States.
"We cannot continue with this disproportionate use of violence," said Prime Minister Francois Fillon, in the strongest reaction so far from Paris.
"We urgently call on all parties to show restraint, to choose the path of dialogue."
The violence also spread to the chic Mediterranean resort of Hammamet Thursday with demonstrators smashing up a police station and holiday villas in the town popular with Europeans and the country's ruling class.
The United States and a host of European nations including Portugal and The Netherlands warned their citizens not to visit Tunisia.
Ben Ali had earlier sacked his interior minister after criticism of the police crackdown and promised to create 300,000 more jobs.
Late Thursday, following comments on freedom of information and access to the Internet by Ben Ali during his address, sites that had been previously blocked such as YouTube were again accessible.