TUNIS, Jan 18, 2011 (AFP) - Tunisia held its breath on Tuesday as a new transition government that unveiled unprecedented freedoms but also left powerful posts in the hands of old regime figures braced for protests.
Prime Minister Mohammed Ghannouchi was one of eight ministers staying on from the previous government of disgraced president Zine El Abidine Ben Ali, who resigned and fled on Friday in the Arab world's first such popular revolt.
Ghannouchi said that the ministers remaining, including the defence and interior ministers, had "acted to preserve the national interest."
"They kept their posts because we need them at this time," Ghannouchi. "All of them have clean hands," he said on French radio Europe 1.
"Thanks to their dedication they managed to reduce certain people's capacity to do harm. They manoeuvred, delayed and bought time to preserve the national interest."
He also said that exiled Islamist leader Rached Ghannouchi -- no relation -- would only be able to return to Tunisia once an amnesty law had been approved.
The popular Islamist was sentenced to life in prison under the old regime.
As he unveiled the new government and promised parliamentary and presidential elections within six months on Monday, Ghannouchi announced complete media freedom and the release of all political prisoners.
But many Tunisians remained unconvinced by the new leadership.
"The RCD, the party of dictatorship and the symbol of totalitarianism and tyranny, is still in business," one Internet user wrote on Facebook.
Another Facebook post read: "The dictator has fallen but the dictatorship not yet. Tunisians have to continue their mission."
The exiled opposition earlier branded the new government a farce.
A Facebook page called "Tunisian Revolution" with more than 50,000 fans called for protests in the capital Tunis and the cities of Sousse and Sfax.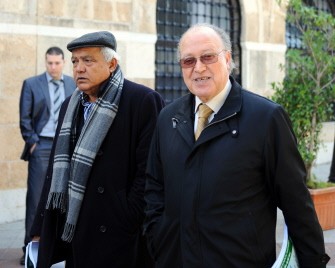 Tunis General Secretary of the Democratic Forum for Labour and Freedom party Mustapha Ben Jaafar (R) and Ahmed Brahim, leader of Tunisia's opposition Ettajdid (Renewal) Movement arrive at the Government Palace on January 17, 2011 in Tunis. AFP
Interior Minister Ahmed Friaa on Monday said 78 people had been killed in the protets -- several times higher than the last official death toll -- and said losses to the economy amounted to 1.6 billion euros (2.2 billion dollars).
The losses are equivalent to around four percent of Tunisia's GDP.
Thousands of foreign tourists -- a key source of revenue -- have fled Tunisia in recent days and normal business activity has been disrupted.
Meanwhile relative calm returned to central Tunis -- the scene of violent protests and gunfights earlier -- although most shops remained shut.
The interior ministry remained under heavy guard following protests on Monday in which hundreds of people marched through the city centre to demand the abolition of the RCD party of ousted leader Ben Ali.
The protest was broken up by riot police as any public gatherings are still banned under the strict rules of a state of emergency declared by Ben Ali. A dusk-to-dawn curfew also remains in place.
The president fled to Saudi Arabia after 23 years in power and some of his closest allies including former security chief Ali Seriati have been arrested.
On Tuesday, Ghannouchi said that those responsible for repressions during the past month of protests would be put on trial.
"All who were involved in those massacres will answer to justice," he said.
Britain's Foreign Secretary William Hague urged the new government in Tunisia to respect the constitution and human rights and to work "quickly and decisively" as it takes control.
"The elections that are now scheduled in our view should be free and fair elections and that should be clear to the world," Hague said.