BOYNUYOGUN, Turkey, June 18, 2011 (AFP) - Turkey on Saturday allowed limited media access to a camp sheltering Syrian refugees as the number of people fleeing bloody unrest in its Arab neighbour exceeded 10,000.
A group of photographers were taken on a brief guided tour inside a tent city in Boynuyogun village in the border province of Hatay, the first time that media members had been allowed to enter the fenced camps.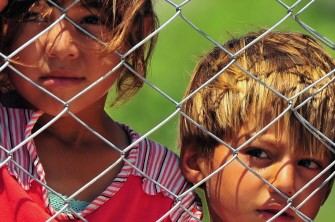 AFP - Syrian refugee children stand behind a fence on June 18, 2011 at the Boynuyogun Turkish Red Crescent camp
Refugees were seen chatting or resting inside their tents, erected on a neat and clean ground, as others carried clean water in plastic jerrycans to their makeshift homes.
In a television room, about 50 people watched the latest news from their homeland on an Arabic-language satellite channel, as several received medical care at a field hospital.
Dozens of children, entertaining themselves at a playground, burst into chanting slogans as they saw the photographers.
Officials escorted several refugees to a compound at the camp's entrance to speak to the media but often intervened in the exchange as an army of journalists scrambled to ask questions.
"They protect us here," a veiled woman said through an interpreter.
A young man in his 20s said: "They treat us well here. We are surrounded by a fence because elements of the Syrian state may have a secret agenda and try to get information around."
Turkish foreign ministry officials have said earlier that the camps are kept off limits to the media in a bid to protect the identity of the refugees, who still feared reprisals.
Hollywood superstar Angeline Jolie visited one of the camps Friday in her capacity as goodwill ambassador for the UN refugee agency.
Also Friday, a source from a Syrian rights group said that refugees at another camp, in nearby Yayladagi, launched a hunger strike to protest restrictions imposed by the Turkish authorities.
"They are protesting the lack of visits, their inability to protest against the Damascus regime and the absence of outside contacts," said the source, a Syrian dissident based in Turkey.
The number of Syrians who have taken shelter in Turkey increased to about 10,100, Anatolia news agency reported Saturday.
The figure went up after another 421 Syrians, mostly women and children, arrived at the tent cities that the Turkish Red Crescent has erected in Hatay, according to Anatolia.
Officials say the Syrians are given three meals a day, medical care, hot water, and access to household equipment like washing machines and televisions.
On Thursday, Foreign Minister Ahmet Davutoglu said Turkey would keep its borders open to Syrians fleeing the violence and supply humanitarian aid to the thousands of people massed just across the border in Syria itself.
Many come from Jisr al-Shughur, a flashpoint of the anti-government uprising 40 kilometres (25 miles) from the Turkish border that was pounded by Syrian regime troops.
Saturday's tour came as an activist said that Syrian tanks had entered a village close to the border with Turkey, whose residents had been supplying people fleeing from the Jisr area.