DelicTurkey and Armenia were set to sign landmark pacts here on Saturday to normalise ties and seek reconciliation after nearly a century of bitterness over their bloody history.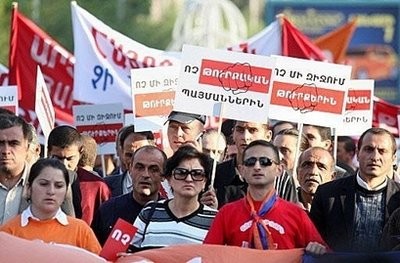 Thousands of Armenians took to the streets of the capital Yerevan. (AFP Photo)
The Swiss foreign ministry confirmed late Friday that Armenian Foreign Minister Edward Nalbandian and Turkish counterpart Ahmet Davutoglu would take part in the signing ceremony after more than a year of discreet Swiss-mediated talks between the two countries.
US Secretary of State Hillary Clinton and Russian Foreign Minister Sergei Lavrov were to attend the ceremony, alongside French Foreign Minister Bernard Kouchner and EU foreign policy chief Xavier Solana, in a public display of support by the major powers.
The two neighbours have been locked in dispute since the World War I massacres of Armenians under Ottoman rule.
The two protocols Nalbandian and Davutoglu are due to sign would establish diplomatic ties and open the Armenian-Turkish border, provided their respective parliaments subsequently ratify them.
"The signing ceremony for protocols between the republic of Armenia and the republic of Turkey will occur tomorrow (Saturday) in Zurich," the Swiss foreign ministry announced.
The ceremony will be headed by Swiss Foreign Minister Micheline Calmy-Rey.
Observers say an agreement could help Turkey's troubled bid to join the European Union and boost its desire for more influence in the Caucasus.
Meanwhile, landlocked Armenia could find itself closer to the West and gain a much needed boost to its economy.
Although both governments have parliamentary majorities that would allow them to ratify the deals, they are not expected to rush ahead due to domestic opposition.
The Armenian leadership is facing domestic protests for allowing the creation of a commission to study the Ottoman-era massacres of Armenians under the deal with Turkey.
Critics believe the step calls into question Armenian claims of genocide in 1915-1917, when they say 1.5 million of their kinsmen were systematically killed by Ottoman Turks.
Turkey denies the claims and says the death toll is inflated, having shunned diplomatic ties over Yerevan's campaign to have the killings recognised as genocide.
On Friday, up to 10,000 Armenians, some carrying placards reading "No Concessions to the Turks," marched from the capital Yerevan to a hilltop memorial to World War I-era massacres.
Another long-running dispute over Nagorny-Karabakh -- an Armenian-majority enclave which broke free from Azerbaijan after a war in the early 1990s -- could also spoil reconciliation efforts.
Turkey closed its border with Armenia in 1993 to support close ally Azerbaijan.
The Armenian president's office said Friday that talks with his Azerbaijani counterpart this week over the disputed region had been "constructive".