JAKARTA, April 5, 2011 (AFP) - Turkey and Indonesia on Tuesday called for a ceasefire in Libya and promised to help rebuild the country, as rebels and government forces battled for key eastern cities under a UN no-fly zone.
The call came after Moamer Kadhafi's regime on Friday rejected an opposition offer of a truce provided his forces ended their assaults on rebel-held cities.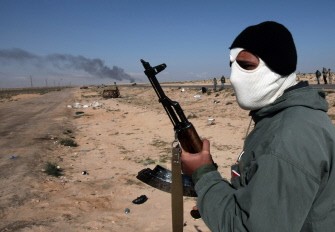 AFP - Libyan rebels fighting forces loyal to leader Moamer Kadhafi gather outside the eastern oil town of Brega on Apr. 5
Turkish President Abdullah Gul said it was time to "stop the bloodshed", following talks in Jakarta with Indonesian President Susilo Bambang Yudhoyono.
"We discussed this issue... to stop the bloodshed in Libya. Infrastructure should not be destroyed," he told a joint press conference at the state palace, according to an Indonesian government translator.
"It is not possible to have a closed regime (in Libya)... Democracy will come to this region and people in Libya should not suffer anymore."
In a joint statement, the two leaders "stressed the importance of the preservation of the sovereignty, national unity and territorial integrity of Libya".
"In this connection, the two presidents underscored the need for an immediate and effective ceasefire and an end to hostilities to bring about a complete end to the violence against long-suffering innocent civilians.
They also called for a "United Nations presence" to monitor any truce.
Yudhoyono said Indonesia -- the world's most populous Muslim-majority nation -- was ready to send peacekeepers.
"When the ceasefire is established, certainly there'll be surveillance and Indonesia is more than willing to take part in some sort of peacekeeping mission," he told reporters.
Coalition aircraft have been striking Kadhafi's forces since March 19 under a UN resolution to enforce a no-fly zone and protect civilians.