ANKARA (AFP) – Turkish and Israeli ministers met secretly in Brussels to seek ways of mending fences amid a deep crisis over a deadly raid on Gaza-bound aid ships last month, a Turkish official said Thursday.
Turkish Foreign Minister Ahmet Davutoglu and Israeli Trade Minister Benjamin Ben Eliezer met Wednesday in Brussels, where Davutoglu was on a visit to discuss his country's bid to join the European Union.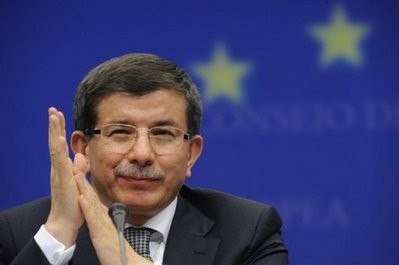 Turkey's Foreign Minister Ahmet Davutoglu pictured on June 30, 2010 (AFP)
The talks "took place yesterday in Brussels upon a request by Israel," the official who declined to be named told AFP.
"We had already conveyed a note to Israel explaining our expectations from them... Those expectations were repeated at the meeting," the official said.
It was the first bilateral meeting on a ministerial level since relations between the once-close allies plunged into deep crisis on May 31 when Israeli commandos raided a Turkish ship leading an aid flotilla to the Gaza Strip.
The United States has expressed concern over the deteriorating ties between the two countries.
Eight Turks and a dual US-Turkish citizen were killed in the operation, which shattered bilateral ties, already strained since Israel's devastating war on Gaza last year
Ankara immediately recalled its ambassador from Tel Aviv and cancelled three planned joint military exercises. It also denied permission twice to Israeli military aircraft to use its air space.
Senior Turkish officials have said Turkey expects Israel to apologise for the bloodshed, compensate the victims' families, agree to an international inquiry and release three Turkish vessels seized in the operation.
Ankara also wants the crippling blockade of Gaza to be lifted.
Ben Eliezer is known as an advocate of good ties with Turkey. He was the first Israeli minister to visit Ankara last year after the Jewish state's war on Gaza triggered vehement Turkish criticism.
But his talks with Davutoglu in Brussels were concealed from the Israeli foreign ministry, infuriating the hawkish and outspoken minister, Avigdor Lieberman, Israel's Channel Two reported.
While not mentioning Ben Eliezer or Davutoglu by name, Lieberman said talks had taken place without his knowledge or approval.
"The foreign minister takes a very serious view of the fact that this occurred without informing the foreign ministry," his office said in a statement late Wednesday.
"This is an insult to the norms of accepted behaviour and a heavy blow to the confidence between the foreign minister and the prime minister," it said.
A statement from Prime Minister Benjamin Netanyahu's office said he had approved a request from Ben Eliezer to hold an unofficial meeting with a "Turkish personality" and the failure to coordinate with the foreign ministry had been due to "technical reasons."
Turkey's NTV news channel said the meeting took place in a hotel suite and lasted more than two hours.
It was kept secret also from Turkey's chief EU negotiator Egemen Bagis and Agriculture Minister Mehdi Eker, who were in Brussels with the foreign minister, the report said.
Davutoglu and Ben Eliezer discussed ways of repairing bilateral ties, with the Turkish minister insisting Israel must apologise over the deadly raid on the Turkish ferry Mavi Marmara, it said.
The two agreed to keep the meeting secret, share their discussions with their prime ministers and meet again secretly on a future date, it added.