TEHRAN, Sept 13, 2009 (AFP) - Turkish Foreign Minister Ahmet Davutoglu said on Sunday that Ankara is ready to host talks between Iran and world powers over Tehran's latest proposals to resolve a nuclear row, Iranian news agencies reported.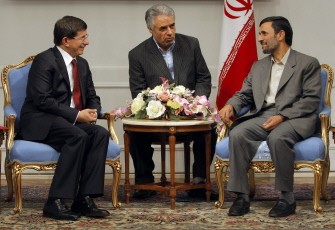 Iranian President Mahmoud Ahmadinejad (R) meets with Turkish Foreign Minister Ahmet Davutoglu (L) in the presence of a translator in Tehran on September 12, 2009 (AFP photo)
Davutoglu made the offer in a statement issued by Iran's Supreme National Security Council, the state news agency IRNA said.
The minister, who was wrapping up a two-day visit, hoped the negotiations would start "as soon as possible and said Turkey is ready to host the talks," in the statement issued after he held talks with Council chief Said Jalili.