Syrian forces killed at least 12 people Saturday in their ongoing bid to crush anti-regime dissent, activists said, as the Arab League announced an agreement with embattled President Bashar al-Assad on long-promised reforms.
Arab League chief Nabil al-Arabi met Assad with a 13-point document outlining Arab proposals to broker an end to the bloodshed in Syria, hold elections and push for reforms in the League member state.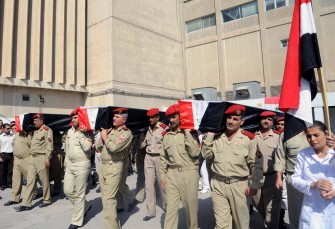 A photo released by the Syrian official news agency (SANA) shows Syrian soldiers carrying the coffins of comrades Ahmed Nizar Awad, Khaled Mohammed Kharsa and Maher Ahmed Habib, at Teshrin military hospital in Damascus on September 10, 2011 after the were allegedly killed in recent violence in the country
During his talks with Assad, Arabi said the League and other Arab countries "reject any form of foreign interference in Syrian domestic affairs," the official news agency SANA reported.
Arabi said upon returning to Cairo that they had reached an "agreement on steps to carry out the reforms, (and) the elements will be submitted to the council of the Arab League," which meets in Cairo on Monday.
SANA reported that Assad said that there was a need "to not get caught in campaigns of disinformation against Syria."
It said Assad denounced the campaign of spreading "wrong facts" aimed in his opinion "to harm the image of Syria and destabilise" the country.
Arabi's remarks come as the United States is set to ramp up work on a UN Security Council resolution targeting Syria.
"We're looking at accelerating that work next week," US State Department spokeswoman Victoria Nuland said in reference to a draft resolution likely to include sanctions.
Arabi's mission came three days later than originally planned and as activists reported new deaths.
At least 12 people were killed by security forces across the country, including eight in the central Homs region, the Syrian Observatory for Human Rights and other activists said.
The Observatory said a young man was killed by gunfire at a security checkpoint in the northwestern village of Khan Sobol near the city of Idlib
In the south, three civilians were killed and 12 wounded by security forces firing on demonstrators Saturday night outside the city council near Nimr, in Daraa province, the Observatory said.
It added that the bodies of two brothers, an officer who defected, were turned over to their families in the northwestern village of Rami.
They had been arrested Thursday.
And the body of a militant, Ghiyath Matar, who played a key role in organising anti-regime demonstrations, were given to his family, according to New York-based Human Rights Watch, which cited activists.
Matar, who was arrested September 6, died of torture, the international watchdog said. He had bruises on the chest and signs of injuries to the face, according to activists
On Friday, thousands of protesters for the first time called for international protection against repression.
The United Nations says more than 2,200 people -- mostly civilians -- have been killed in a crackdown on almost daily protests by pro-democracy and anti-regime demonstrators in Syria since mid-March.
But Radwan Ziadeh, head of the Washington-based Damascus Center for Human Rights Studies in Syria, said in Tunis that "more than 3,000 people have been killed, the majority of them civilians, have been killed in 112 Syrian towns and cities."
These included 123 aged under 18, he added.
Damascus insists that it is battling "armed terrorist gangs."
Arabi's trip came after protesters across Syria on Friday demanded international protection.
According to a copy of an Arab League document seen by AFP earlier this week, Arabi was due to propose that Assad hold elections in three years, move towards a pluralistic government and immediately halt the crackdown.
Assad should declare his "commitment to making the transition towards a pluralistic government and use his powers to speed up reforms and announce multi-candidate elections ... for 2014, when his current mandate ends," says the document.
Assad has pledged reforms and issued a decree in August allowing opposition political parties alongside the ruling Baath party, in power since 1963 with the constitutional status of "the leader of state and society."
The Arab initiative, agreed at a foreign ministers meeting in Cairo last month, also calls on Syria "to immediately end" the crackdown, "separate the military from political and civil life" and begin talks with the opposition.
The initiative angered Syria, which said it contained "unacceptable and biased language" and Damascus had postponed Arabi's trip which was initially due on Wednesday, citing "circumstances beyond our control."
Syria received support from Moscow this week when Russian President Dmitry Medvedev who said some protesters were "terrorists."
Russia, which along with China and other countries is opposed to a Security Council resolution targeting Syria, is due to host Assad's adviser Buthaina Shaaban on Monday.
Mikhail Margelov, foreign affairs chief in Russia's upper house of parliament, said he would meet Shaaban to try to get approval to send a delegation of Russian senators to Damascus.
Videos posted on the Internet of Friday's protests showed crowds in the flashpoint Damascus neighbourhood of Barza carrying signs saying: "We want Russia and China to change their position towards this regime."
Activists who called Friday's protests said in a message on the "Syrian Revolution 2011" Facebook page that the Syrian people want the United Nations to send a "permanent observer mission" to Syria.
The United States and several European powers are pushing for a UN resolution to condemn Assad's regime which has already been slapped with sanctions, including an oil ban.
But they have met with stiff resistance from Russia, China and a group of emerging nations including Brazil.