BAGHDAD (AFP) – Twin suicide car bombs blasted the justice ministry and the provincial offices in central Baghdad on Sunday, killing at least 90 people and sparking turmoil in the embattled Iraqi capital.
Around 600 people were wounded in the attacks, which occurred within minutes of each other at around 10:30 am (0730 GMT) and left streets littered with charred bodies and torn-off limbs.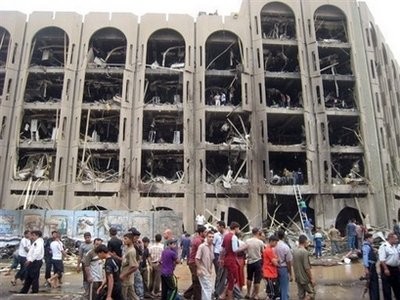 People are seen recovering bodies through the shattered windows of the justice ministry following an explosion in central Baghdad on October 25 (AFP photo)
The blasts destroyed dozens of cars and shattered water pipes, spewing dirty water on to nearby streets.
Authorities closed off roads leading to the bomb sites as fire trucks and ambulances struggled through thick traffic to reach the blazing buildings.
One of the attacks occurred at a busy intersection near the ministries of justice and labour, while the other was opposite the Baghdad provincial government offices in Salhiyeh neighbourhood.
At least 90 people were killed and 632 people were injured, according to a tally of tolls from four hospitals in central Baghdad -- Al-Karama, Ibn Nafis, Medical City and Yarmuk.
Shortly after the attacks, Iraqi Prime Minister Nuri al-Maliki visited the site of the Saliyeh bombing, where he spoke to officials and security officers but made no statement.
"Why are they doing this to us?" shouted a man who gave his name only as Mohammed, sitting near the ravaged provincial buildings, his clothes covered in blood.
"It's because of the election -- they want to defy the government," he said, referring to planned general elections in January.
Thick smoke billowed over the stricken area and fires could be seen from two buildings whose windows had been shattered by the force of the blasts.
Rescue workers in Salhiyeh said they had to cover dead bodies in blankets before picking them up because they were too hot to touch.
Firemen meanwhile were using their trucks' ladders to reach the upper floors of the ministries, fearing that many dead and wounded could be trapped.
Several helicopters were flying over the area and dozens of humvees were lining the streets around the bomb sites.
The explosions were a grim reminder of deadly blasts which shook the ministries of foreign affairs and finance on August 19, in which around 100 people were killed.
The twin bombings came as Iraqi political leaders were to meet to try to end a deadlock over a stalled election law amid growing concerns that the country's January 16 election will have to be delayed.
The meeting was scheduled to take place at 3:30 pm (1230 GMT). There was no immediate information as to whether the meeting would go ahead as planned.
Lieutenant General Ali Ghaidan Majeed, commander of Iraqi ground forces, warned in an interview with AFP on Saturday that the coming months could see an upswing in violence ahead of the January polls.
He said security would likely only stabilise by the middle of next year after a transfer of power to a new government.
"I am concerned that between now ... and July 2010, basically throughout the election and after with the transfer from the old government to the new government, maybe you will see terrorist activities increase," he said.
Attacks have dropped dramatically compared to a year ago -- violent deaths in September were the lowest since May -- but remain high by international standards.
However insurgents are still able to mount high-profile attacks, especially in Baghdad and the northern city of Mosul, which kill dozens.