PESHAWAR, Pakistan (AFP) – At least four people including two women were killed and 19 others wounded in twin truck bombings that targeted a key road tunnel in Pakistan's northwest, officials said Saturday.
The attacks took place late Friday night in and outside the tunnel which connects the main city of Peshawar in Khyber Pakhtunkhwa province to the city of Kohat.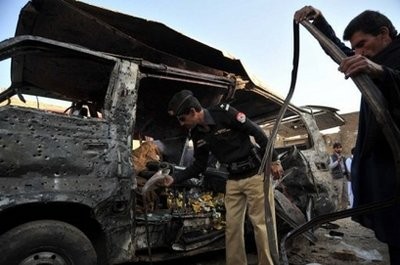 AFP file - A Pakistani policeman inspects a van after a suicide attack in Kohat on December 8, 2010
In the first attack, "an explosive-laden truck entered the tunnel and blew up, badly damaging another truck behind it, wounding five people," top administration official in Kohat, Shahidullah, told AFP.
Security officials said the attack aimed to damage the Japanese-built tunnel, which had been recently reopened to 24-hour vehicle traffic after being open during the day only because of the risk of militant attacks.
Shahidullah said that in the second incident, an oil tanker packed with explosives hit a joint paramilitary Frontier Corps and army checkpoint outside the tunnel.
"The checkpoint was empty but four civilians, including two women who were travelling in a passenger van behind the tanker, were killed and 14 others wounded in the attack," he added.
The checkpoint is located in the lawless tribal town of Darra Adam Khel, which is known for its weapons bazaar and illegal arms factories.
A local police spokesman confirmed the two attacks and casualties, and said that at least 500 kilograms of explosives were used in the first attack.
He said that the security forces cordoned off the tunnel immediately after the incidents and closed it to traffic.
Pakistan's northwest and tribal areas have been wracked by violence since hundreds of Taliban and Al-Qaeda fighters sought refuge there after the US-led invasion of Afghanistan in 2001.
The government has claimed a number of military successes against the Islamist hardliners during the last two years, but attacks continue across the country and are concentrated in the northwest.
Pakistan launched its most ambitious military offensive yet against Taliban militants in South Waziristan in 2009, expanding the campaign to many of the other seven semi-autonomous tribal districts along the border.
Washington says that wiping out the militant threat in Pakistan's semi-autonomous tribal belt is vital to winning the war against the Taliban in Afghanistan and defeating Al-Qaeda.