Australian doctors on Tuesday successfully separated joined-at-the-head Bangladeshi twin girls after more than 24 hours of surgery, describing the moment as "surreal".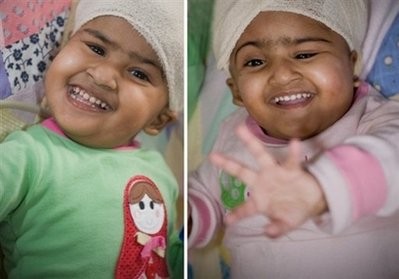 Trishna (L) and Krishna (R), the Bangladeshi set of twins who were joined at the head. Australian doctors successfully separated the girls after more than 24 hours of surgery on Tuesday, describing the moment as surreal. (AFP Photo)
Two-year-old Trishna and Krishna were said to be "very well" after surgeons who worked through the night finally prised apart their brain tissue at about 11:00 am (0000 GMT).
"The moment of separation was a rather surreal moment," Leo Donnan, chief of surgery at Melbourne's Royal Children's Hospital, told reporters.
"There was relief but I think everyone realised there was still a long way to go and that the girls have a very difficult time ahead of them.
"Now we have the long task of the reconstruction surgery which will go on for many hours. We can't predict how long it will take."
Plastic surgeons will now close their skulls with bone and skin tissue to prevent infection, with Trishna and Krishna expected to stay in an induced coma for several days.
The girls were close to death when they were rescued from a Dhaka orphanage two years ago, and doctors gave the highly complex operation just a one in four chance of complete success.
Donnan said the 16-strong team, which took regular food and rest breaks and listened to pop music in the operating theatre to stay alert, was elated to see them apart.
"These are once-in-a-lifetime operations that teams would do. For the hospital it's a historic moment, for the girls it's an even more historic moment," he said.
"Everyone has known these girls as one with their individual personalities, so to see them as separate human beings is a pretty amazing moment," Donnan added.
The operation had stretched past its scheduled 16 hours as surgeons battled to avoid nerve damage in the pinpoint process of separating the brains, giving members of the Children First Foundation a sleepless night.
The charity flew the girls to Australia because of poor survival rates in their native Bangladesh, where only two children have survived four separation operations in recent years.
"I think surreal is a very good expression. We're overjoyed that we've got to this stage," said the Foundation's chief Margaret Smith, adding that it was too early for celebrations.
"I think everybody's been on tenterhooks. No cake yet, I think when we get them to intensive care we'll be very relieved, then it will just be day by day, hour by hour."
Separating conjoined twins is a notoriously difficult procedure, with attempts in Britain and Bangladesh both failing over the past year, although Saudi doctors successfully divided a pair of Egyptian brothers in February.
In one of the best known cases, Singapore doctors in 2003 made a vain attempt to separate adult twins -- Iranian law graduates Laleh and Ladan Bijani, 29 -- who died from severe blood loss after 52 hours of surgery.