BEIJING, Aug 19, 2010 (AFP) - Devastating mudslides in southwest China have claimed their first two victims and left 90 others missing, as experts in other parts of the country warn of more disasters to come, state media said Thursday.
Torrents of mud slammed into homes in the remote Puladi township in Yunnan province in the early hours of Wednesday when residents were sleeping, leaving dozens missing and prompting a large-scale rescue effort.
Photos published in state newspapers showed rescuers laying down planks on a 300-metre (yard) wide sea of mud which had buried at least 21 houses along with their inhabitants.
"The downpour, coupled with howling wind, was terrifying. My daughter, son and I did not dare sleep, but the mudslide took away my son anyway," Yang Guihua, her voice trembling, was quoted as saying by the official China Daily.
Yang's nine-year-old son is still missing, the report said.
More than 1,100 rescuers were searching for the missing, mainly mine employees and local villagers. The mudslides left another 38 people injured, including 10 seriously hurt, the official People's Daily said.
Local weather authorities have predicted more rain in the area over the next few days, further complicating rescue efforts.
The latest mudslides come after at least 1,287 people were killed in mudslides 10 days ago in the northwestern province of Gansu, which virtually split the town of Zhouqu in two, leaving nearly 460 more missing.
The neighbouring province of Sichuan, which is only just recovering from the huge 2008 earthquake that left nearly 87,000 dead or missing, has also been badly hit by torrential summer downpours.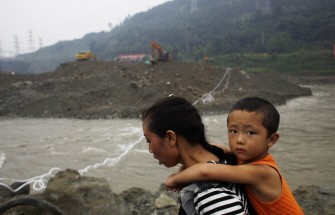 A villager carries her son as she walks in front of rescuers preparing to use explosives to clear a blockage in the Mingjiang river, caused by the debris from the landslide caused by torrential rains in Yingxiu town -- the epicentre of the Sichuan earthquake-- in southwest China's Sichuan province on August 17, 2010. AFP
At least 15 people there have been killed in mudslides, and hundreds more have been evacuated.
Qiao Jianping, a researcher with the Institute of Mountain Hazards and Environment, said hazards sparked by the 2008 quake could last more than a decade, according to the China Daily.
The mudslides in Gansu, Sichuan and Yunnan are the latest in a string of weather-related disasters across China in a summer of heavy rains that have triggered the country's worst flooding in a decade.
More than 2,100 people have so far been left dead or missing and 12 million evacuated nationwide, not including the toll from the Zhouqu disaster, according to government figures.