YALA, Thailand, April 30, 2011 (AFP) - Two Thai troops died and nine were injured in bombings that struck Thailand's restive south on Saturday just hours before a visit by the prime minister, police said.
Unknown attackers detonated two bombs within a kilometre of each other in the district of Raman in Yala, one of three insurgency-plagued provinces near Thailand's border with Malaysia.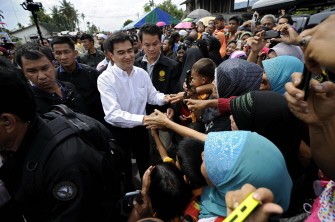 AFP - Thailand's Prime Minister Abhisit Vejjajiva (C) greets well-wishers during a visit in the restive southern province of Narathiwat on April 30, 2011.
The bloodshed coincided with a rare one-day visit to the southern region by Thai premier Abhisit Vejjajiva, who was due in Raman on Saturday afternoon.
A first roadside explosion injured four soldiers shortly before noon.
It was followed by a gun battle and a second blast that killed two troops responding to the initial bombing. Another five were wounded.
"All the victims, including the dead and injured, are rangers," police in Raman said.
Thailand urged authorities in the violence-ridden south to step up security surveillance earlier this month as the bloody toll of years of unrest continued to rise.
More than 4,500 people, both Muslims and Buddhists, have died since shadowy insurgents launched an uprising in Thailand's southernmost region bordering Malaysia in early 2004.
The three southern provinces have been under emergency rule since 2005, giving the military broad powers of arrest.
Abhisit, accompanied by his deputy Suthep Thaugsuban, was in the region to chair a meeting of a government body tasked with mapping out strategic development for the south.