An elderly woman and a young man were rescued after spending 10 days buried in the rubble of Haiti's quake-hit capital, as the death toll from the disaster soared to more than 110,000.
The miracle rescues of 84-year-old Marie Carida Roman and the unnamed 22-year-old man came despite aid workers saying they were winding down efforts to find people trapped in the worst disaster on record to hit the Americas.
Thousands of people meanwhile braved new aftershocks to queue for the first major food handouts in central Port-au-Prince since the 7.0-magnitude quake, as others scrambled for a place on free buses out of the squalid city.Related article:Aid brings relief for some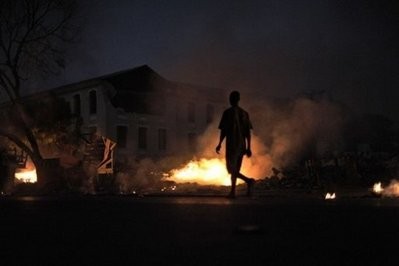 A Haitian walks past burning rubbish along a street in Port-au-Prince.
UN spokesman Elisabeth Byrs said some exhausted international rescue teams were heading home and others were "concentrating more and more on humanitarian aid for those who need it."
But hours later friends and family dug frail Carida Roman from the ruins of her home with their bare hands, almost a day after hearing her faint cries. She was later fighting for life in hospital.
"I'm trying to find out how I can help her survive. She has a crushed chest and had lots of maggots" all over her body, said Ernest Benjamin, an emergency volunteer from Mount Sinai Medical Center in New York city.
Her shell-shocked son, a 58-year-old telephone technician who refused to give his name, said: "I heard her calling yesterday at around 9:00 or 10:00 in the morning. Friends in the neighborhood helped dig her out with our bare hands.
"We pulled her out at around 7:00 this morning."
Israeli rescuers separately pulled the 22-year-old man from the ruins of a three-story building near the presidential palace on Friday, an Israeli military statement said, adding he was in a stable condition in hospital.
US and French doctors called for assistance to rescue the man from a tunnel, and within half an hour the Israeli team was "able to release him whole and healthy," rescue team member Major Zohar Moshe was quoted as saying.
They were the first people found alive since two children on Wednesday.
Haiti's interior ministry said Friday the confirmed death toll from the quake now stood at 111,499. It said more than 193,000 people were wounded and more than 609,000 were living in temporary camps.
The US Geological Survey said the Haiti disaster has already gone down in history as the most destructive on record in this region.
"That's probably accurate that this is the most deadly quake to occur in this part of the world," USGS geophysicist Dale Grant told AFP.
The international aid effort gathered pace elsewhere, with thousands of people queuing for hours around the destroyed presidential palace as Brazilian UN peacekeepers handed out 10 tonnes of ration packs and 22,000 litres of water.
Elsewhere the UN World Food Program said it staged massive aid distributions at a football stadium and in the downtown Delmas district designed to feed 27,000 people.
UN relief spokesman Vincenzo Pugliese said the situation was improving, with security largely calm, supermarkets set to reopen next week and nearly a third of all gas stations open.
But in downtown Port-au-Prince residents burned at least six bodies because no one had collected them since the disaster. Three charred skeletons could be seen on a pile of garbage and three others were in nearby ruins, an AFP reporter said.
Tens of thousands of seriously injured Haitians also remain in primitive conditions in makeshift field hospitals.
The Haitian government pushed ahead with plans to move around 500,000 people out of the filthy conditions in Port-au-Prince to hastily set-up villages in the south and north of the country designed to hold 10,000 people each.
Families gathered in downtown Port-au-Prince to catch the initial 34 buses leaving the city on Friday.
The chaos has left the youngest victims of the quake vulnerable, with the UN Children's Fund UNICEF saying it believed around 15 children had gone missing from hospitals, raising fears of trafficking for adoption abroad.
US forces meanwhile said Haiti's main port had officially reopened Friday, with army engineers and navy divers set to start rebuilding the heavily damaged pier.
Hollywood heartthrob George Clooney led a galaxy of stars Friday in a telethon fundraiser for the earthquake victims broadcast across every major US television network.Related article:Stars urge Haiti donations
Featuring some 130 celebrities and presented by music channel MTV, the line-up for the "Hope for Haiti Now" telethon included Madonna, Beyonce, Jay-Z, Bono, Bruce Springsteen, Coldplay and Jennifer Hudson.
"The Haitian people need our help. They need to know they are not alone," Clooney told the national audience.