A team from the Republic of Korea began talks in Democratic People's Republic of Korea Friday on family reunions and other humanitarian issues, after a week of mixed signals from the communist state about its willingness to improve frosty ties.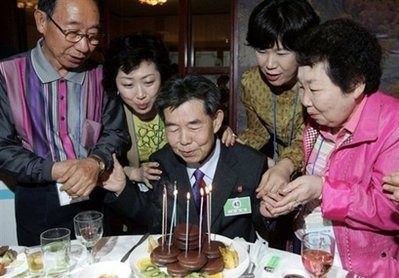 Family members celebrate the birthday a North Korean relative (centre) during a family reunion in North Korea in late September. (AFP Photo)
The meeting in the town of Kaesong just north of the heavily fortified border is the second this week. During talks on Wednesday the North made a rare expression of regret to the South for causing a cross-border flood which killed six people.

But Pyongyang began the week by test-firing five missiles. On Thursday its navy accused the South of sending warships across the disputed sea border and warned of possible armed clashes.

Unification ministry official Kim Eyi-Do and Red Cross official Kim Seong-Kuen began talks with officials from DPRK at 10:00 am (0100 GMT), the ministry said.

As part of a series of conciliatory gestures, the North last month allowed the resumption of a reunion programme for families separated since the 1950-1953 war.

RoK will propose holding more reunions next month and next February. It wants to put the programme on a regular basis since many elderly people are dying before they have the chance to meet loved ones.

Seoul officials say DPRK, which was hit with tougher United Nations sanctions after this year's nuclear and missile tests, is expected to raise the issues of rice and fertiliser aid and the resumption of lucrative tourism programmes for southerners.

RoK used to send around 400,000 tons of rice and 300,000 tons of fertiliser a year to its hungry neighbour. Relations worsened when a conservative administration took office in Seoul in February 2008 and there have been no government shipments since then.

The South says cross-border relations cannot fundamentally improve till the North agrees to scrap its nuclear programme. But Unification Minister Hyun In-Taek said Thursday that "limited humanitarian assistance will be provided regardless of the political and security situation."