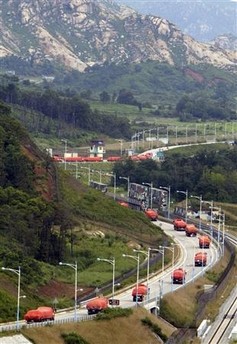 RoK's trucks carrying rice head to DPRK inside the demilitarized zone which separates the two Koreas since the Korean War, July 20, 2007. (AFP Photo)
Military talks between Republic of Korea (South Korea) and Democratic People's Republic of Korea (North Korea) this week will focus on easing tensions along the volatile sea border between the two Cold War foes, officials said Monday.
The three-day talks, due to resume in the border village of Panmunjeom on Tuesday, follow DPRK's shutdown of its main nuclear facilities which had produced bomb-making plutonium.
They will focus on "avoiding military conflicts in the Yellow Sea, realising joint fishing and guaranteeing safety for economic cooperation," the South's defence ministry said in a statement.
The agenda also includes the North's demand that its freighters be allowed to take a short cut home across the sea border and the possible joint development of the mouths of cross-border rivers.
But both sides previously failed to narrow differences, with the North sticking to its earlier demand for drawing a new sea border in the Yellow Sea.
The North refuses to recognise the Northern Limit Line (NLL), the de facto sea border drawn up by United Nations forces at the end of the 1950-1953 Korean War.
Six RoK's person were killed in a clash in June 2002 in the area, a rich crab-fishing ground. In June 1999 a similar skirmish killed dozens of DPRK's sailors.
The North has warned that RoK's warships continued to violate its territorial waters in the Yellow Sea, while the South has rejected the North's repeated accusations as groundless.
A previous round of general-level talks ended fruitless in May due to the sea border dispute.
The South's five-member team to the talks will be led by army Major General Jeong Seung-Jo, the defence ministry said. His DPRK's counterpart will be two-star General Kim Yong-Chol.