Two small explosions hit Bangkok and a nearby province a few hours after tens of thousands of anti-government protesters held a peaceful parade through the capital, police said Sunday.
A grenade attack targeted a new National Counter Corruption Commission office in Nonthaburi province just northwest of Bangkok, on Saturday night, Major General Prawut Thavornsiri told AFP.
He said the building was damaged but nobody was injured.
"The second bomb exploded on a road near the defence ministry after 10:00pm. It wounded one Bangkok rubbish collector. A car was also found near the area, and police are investigating," he added.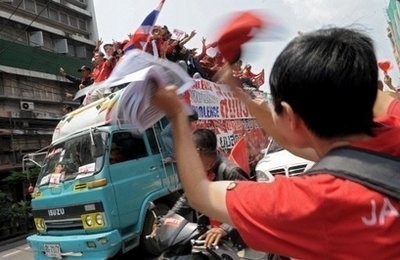 Red-shirted supporters of deposed Thai premier Thaksin Shinawatra parade through the streets of Bangkok.
Prawut said the rubbish collector's injuries were not serious. It was not clear who was behind the attacks.
Earlier Saturday the so-called "Red Shirts", who support ousted premier Thaksin Shinawatra, bolstered their waning week-long rally to topple the government with a huge convoy across Bangkok, which swelled to 65,000 people.
Under a strict security law enforced for the demonstration, a 50,000-strong security force has been deployed across the city and surrounding areas.
Prime Minister Abhisit Vejjajiva has spent most of the rally holed up in an army barracks in Bangkok's northern outskirts due to security fears. He has stood firm against protesters' demands for elections.
Red Shirt leaders on Saturday refused talks offered by the government, saying they would only speak directly to Abhisit himself.
Key dates in the saga of Thailand's Thaksin