MANILA, Oct 31, 2009 (AFP) - Typhoon Mirinae smashed into the Philippines overnight, washing away a bridge, causing power outages and dumping fresh rain on areas still flooded after recent killer storms, officials said Saturday.
There have been no reports of fatalities but one man is missing after his hut was washed away by floodwaters, said civil defence spokesman Ernesto Torres.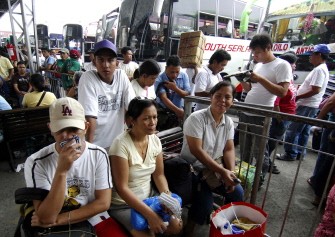 Stranded passengers going home for the traditonal All-Saints' Day holiday wait for their bus to leave after authorities suspended its operations due to typhoon Mirinae at a station in Manila on October 30, 2009. (AFP photo)
One person was rescued after a bridge in Batangas City just south of Manila was destroyed by a swollen river, taking at least one car with it, local officials said. It was not yet clear if anyone was missing from the incident.
Electricity supplies were also interrupted in parts of Manila and in surrounding areas as the storm toppled power lines and trees, rendering some roads impassable, Torres said.
All international and local flights to and from Manila were cancelled, said airport general manager Alfonso Cusi. He said he hoped flights would resume once the storm had passed.
Mirinae weakened after hitting the eastern province of Quezon at midnight as it crossed the main Philippine island of Luzon, moving west towards the South China Sea.
The typhoon, packing gusts of 160 kilometres (99 miles per hour), was charted at about 8:00 am (0000 GMT) above the province of Batangas, moving southwest at 24 kilometres per hour.
The highest level of a three-step storm alert remains hoisted over Manila and its surrounding provinces.
Philippine civil defence officials had prepared extensively for Mirinae after storms Ketsana and Parma hit the country in recent weeks, leading to more than 1,100 deaths, including fatalities from disease outbreaks.
Floods from the earlier storms still have not yet receded in some areas and were worsened by Mirinae, officials said.