At least four people died after super Typhoon Haima swept over northern Philippines on October 19, said local authorities, sources from Vietnam News/Reuters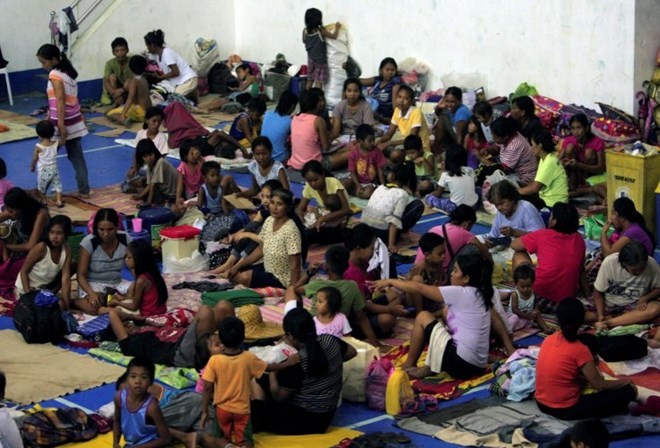 Evacuees from coastal villages take shelter inside an evacuation centre as Typhoon Haima, locally named Lawin, approaches Alcala town, Cagayan province, north of Manila (Photo: REUTERS)
Two workers were killed when a landslide buried their tent in La Trinidad town in the mountainous province of Benguet, while two people drowned in floodwaters in the neighbouring Iflugao province.
Typhoon Haima with ferocious winds and torrential rains toppled power lines, damaged houses and blew down many trees. Hundreds of people were evacuated as many towns were submerged.
The super typhoon landed in Cagayan province in October 19 evening before sweeping over Apayao province on early October 20 with wind speed of 205 kilometres per hour.
Weather experts said the storm moved northwest with a speed of 25 kilometres per hour towards Ilocos Norte province before entering the East Sea.
The Philippine Weather Bureau has downgraded tidal wave alert from level 6 to level 5. Local authorities started tidying roads with fallen trees and rocks caused by the typhoon.
Haima is the 12th typhoon to hit the Philippines this year. It is as strong as super typhoon Haiyan striking this Southeast Asian country in 2013, killing more than 7,300 people and forcing over 5 million people to evacuate.