China rushed to prepare Saturday for the onslaught of its worst typhoon in recent years, evacuating more than 200,000 people from its eastern coast and shutting down transport services.
Typhoon Muifa was expected to make landfall near China's commercial capital Shanghai on Sunday morning or afternoon, or possibly head further north, the National Meteorological Centre of China said in a statement on its website.
That timing marks a change from an earlier forecast by the government agency which said the typhoon could make landfall as early as Saturday evening.
The typhoon, which was packing winds of up to 162 km per hour, would bring strong winds and torrential rains to a wide band of eastern China, the centre said.
China's eastern Zhejiang province had evacuated more than 200,000 people and called more than 30,000 fishing boats back to port, state media said.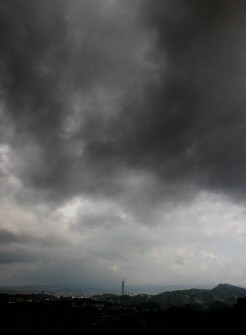 Dark clouds gather above Taipei on August 6, 2011 as typhoon Muifa passes eastern Taiwan on a heading to make landfall on China's east coast.
The typhoon could be Shanghai's worst since 2005, when Typhoon Matsa killed seven people and caused 1.3 billion yuan ($202 million) in damage.
China's three largest airlines all warned of disruption to flights to and from the region, with at least 140 cancellations.
Hong Kong-based Cathay Pacific Airways encouraged passengers to postpone trips to Shanghai and three other Chinese cities until Monday, a company statement said.
Shanghai warned it may limit or halt metro services for the first time, while bullet train services could also be disrupted.
The Shanghai government urged residents to stay indoors, according to an official statement carried by local newspapers.