Uganda's top rebel leader Joseph Kony was expected to sign an historic peace deal on Thursday to end one of Africa's longest and most brutal civil conflicts.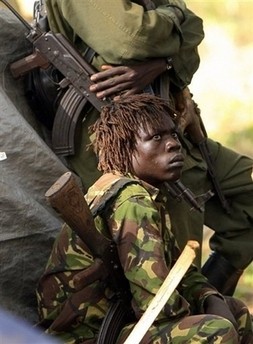 An armed member of the Ugandan Lord's Resistance Army (LRA) during a meeting between the rebel group and the United Nations in southern Sudan in November 2006. LRA leader Joseph Kony was expected to sign an historic peace deal on Thursday ending one of Africa's most brutal civil conflicts.(AFP/File/Stuart Price)
The Lord's Resistance Army (LRA) chief was due in the southern Sudan jungle town of Ri-Kwangba to initial an agreement which is to be signed separately by Ugandan President Yoweri Museveni four days later.
"They (the LRA) told me he would be there," Southern Sudan vice president and chief mediator Riek Machar told AFP Wednesday, amid lingering speculation over the elusive rebel's presence.
Kony -- whose group is notorious for raping and mutilating civilians, enlisting child soldiers and massacring thousands -- has been in hiding to avoid a warrant issued against him by the International Criminal Court (ICC).
Top LRA commanders have hunkered down on the other side of the Ri-Kwangba area's border with the Democratic Republic of Congo but Kony was reportedly spotted recently in the neighbouring Central African Republic.
Kony's people were suspected of gang-raping women there, taking dozens hostage and attacking villages, according to a draft UN report.
Ugandan rebels last week asked mediators to delay the signing of the peace agreement citing inadequate facilities such as toilets.
Machar dismissed the allegations of inadequate services as "rubbish", insisting that southern Sudan was providing food and facilities.
Twenty years of fighting have left tens of thousands dead and displaced two million people, mainly in northern Uganda. Several thousands have been killed in southern Sudan where the LRA have camps.
A ceasefire was struck in August 2006, paving the way for peace talks in South Sudan capital Juba that have dragged on for more than a year and a half.
The talks were delayed by the LRA's insistence that ICC warrants and three of his top lieutenants be lifted before an agreement is signed. However, even with an agreement, Kony is not expected to return to the capital Kampala.
While Kampala has not requested such a move from the Hague-based tribunal, it has been vocal in advocating home-grown solutions to bring former rebels to justice.
Observers argue the government has a vested interest in scuppering too much disclosure at an international tribunal, as it may end up facing war crimes for forcibly displacing hundreds of thousands and killing civilians.
The conflict has raged since 1988, when Kony, a semi-illiterate former altar boy, took charge of a two-year-old regional rebellion among northern Uganda's ethnic Acholi minority.
The original rebellion was started in 1986 by Holy Spirit Movement commander Alice Lakwena, who saw visions and told her fighters she could rely on magic and bulletproof potions to turn enemy bullets into stones.
Since the signing of the truce agreement almost two years ago, the war-scarred east African nation has engaged in aggressive reform to attract investors and revamp its image.